Science in Society Journalism Award entries open until Feb. 1
With five categories, cash prizes, no entry fees, an online entry platform, and submissions open to members and non-members alike, we hope that you enter your best work from 2016 and spread the word to your colleagues, friends, and networks. You can even post to your choice of social media outlets from within the entry platform. Entries for the 2017 Science in Society Journalism Awards close at 11:59 p.m. Eastern on Wednesday, Feb. 1.
For complete rules, a link to the online entry system, and an archive of recent winners, visit nasw.org/scienceinsociety. NASW members and those who already have NASW guest accounts can use their existing NASW website login information. New users will be prompted to create a new guest account.
NASW member access to the Cochrane Library
NASW members can now access the Cochrane Library, which provides databases of healthcare information, including the Cochrane Central Register of Controlled Trails. Special thanks to the Cochrane Library for providing access and to a couple of enterprising NASW volunteers who made the connections. Visit https://www.nasw.org/journal-resources-nasw-members for instructions on accessing the Library and other journal resources.
New resource for help with freelance contracts
Hate reading your freelance contracts? The feeling is nearly universal. But NASW's Freelance Committee has some pain relief for 2017. The Fair Contract Tip Sheet brings you the most frequent tricky clauses and examples of poor language to watch out for along with several snippets of fair language to try to negotiate in their place. Remember, the Freelance Committee and its helpful writers' resources can be found on the All About Freelancing page — but they should never take the place of lawyers! Many thanks to the Freelance Committee for developing this member resource.
Renew your membership by Jan. 31 and save $20
Don't forget that the last day to renew without incurring a late fee is Jan. 31. Personalized dues invoices will be resent every few weeks until you renew, and you can log on to nasw.org at any time to renew or to check your renewal status. Once you are logged in, simply look in the upper right banner of any page.
Consider using that $20 you saved to support writers from developing countries
We're halfway to our goal of raising $40,000 to support the travel of writers from developing countries to the 10th World Conference of Science Journalists this fall in San Francisco. We've got until January 31 to raise another $10,000 that will be matched by an anonymous donor. Help us put out the welcome mat to the world with a tax-deductible donation of any amount to the WCSJ2017 David Perlman Travel Fellowship.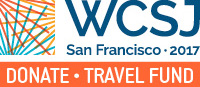 Thank you for being a member of the NASW community. Here's to a great New Year together.