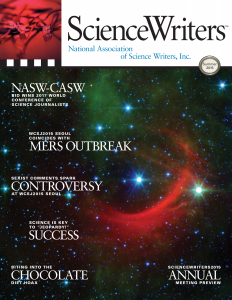 Your friends at NASW, CASW, and Knight Science Journalism at MIT are hard at work on ScienceWriters2015, which lands in Cambridge, Mass., on Columbus Day weekend, Oct. 9 to 13. For a sneak preview of the meeting, read on. Full conference agenda and registration details available now at ScienceWriters2015.org.
Pre-meeting workshop
Early birds can take advantage of a hands-on workshop on book proposals the afternoon of Friday, Oct. 9.
Celebrate, network, socialize
Welcome reception hosted by Knight Science Journalism (Fri.)
Awards Gala reception (Sat.)
Science writers' party organized by the Boston Globe (Sun.)
NASW workshops
The proposals for NASW workshop sessions were very strong this year. Because there were so many great ones, and because of the size of the venue rooms, we decided to offer four concurrent sessions on Saturday. Highlights include:
How to win an NASW Idea Grant
Humor and voice in science writing
Building a writer-friendly contract
Data journalism
How to pitch a story without being annoying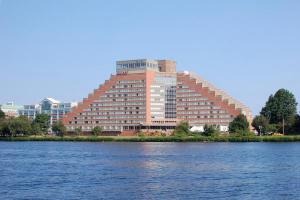 Hyatt Regency Cambridge
The pitch slam this year will be a speed-dating format in which writers meet with editors one-on-one.
Saturday's workshops will conclude with a plenary session on what it means to be an ethical science writer. All workshops, and the evening awards gala, take place at the conference hotel, the Cambridge Hyatt Regency, overlooking the Charles River.
Thanks to the NASW programs committee members for putting this stellar lineup together: Jill Adams, Christie Aschwanden, Bethany Brookshire, Jennifer Weston Cox, Francie Diep, Matthew Francis, Peggy Girshman, Robert Lee Hotz, Michael Newman, Jeffrey Perkel, Erin Podolak, Elizabeth Preston, Jill Sakai, Brian Switek, and Laura Helmuth (chair).
New Horizons in Science
On Sunday, activities will shift back to MIT for the CASW New Horizons in Science program. The 2015 edition of New Horizons will tap the unique science and technology resources of MIT; the vibrant Kendall Square area; nearby universities and labs; and the resources of our host, the Knight Science Journalism Program, all in order to provide a rich encounter with emerging research as well as tackle controversies on the interface of science and science writing.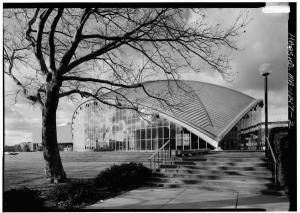 Kresge Auditorium
New Horizons will open with a provocative presentation by a leading MIT scientist and pack some 16 science sessions into two days. Topics will range from synthetic neurobiology and wearable biosensors to the science of poverty and homelessness, puzzles in genome evolution, and quantum computing. MIT speakers will include theoretical astrophysicist Alan Guth, providing an update on the state of cosmology a year after the rise and fall of the announcement that the BICEP2 telescope had detected the signature of primordial gravitational waves.
Sessions will be held in MIT's Kresge Auditorium and the adjoining Stratton Student Center. Lunch with a Luminary (formerly Lunch with a Scientist) has been expanded to both Sunday and Monday and will feature scientists, historians, social scientists, academic officials, and entrepreneurs.
Findings from Pluto flyby
As this issue of ScienceWriters reaches you, the New Horizons spacecraft will have completed a nine-year voyage to Pluto and begin transmitting data from the first human encounter with the dwarf planet. As science writers converge on Cambridge, a large portion of data from the historic flyby will have reached Earth and undergone a first round of analysis. In a "New Horizons at New Horizons" presentation, Principal Investigator Alan Stern of Southwest Research Institute will update writers on what the mission is telling us about Pluto and the mysterious objects of the solar system's vast Kuiper Belt.
Science + Science Writing sessions
For the second year, ScienceWriters2015 will feature Science + Science Writing (S+SW) sessions in which science research stories are used as a case studies to highlight issues in science writing. Having scientists and science writers engaged in an onstage dialogue about a topic is designed to bridge the NASW workshops and New Horizons portions of the joint meeting.
A call for topics for this year's S+SW drew 23 submissions. A joint NASW-CASW committee reviewed these and selected two topics: 1) vaccine hesitancy and 2) the challenges of covering biomedical research done in industrial labs.
"S+SW sessions highlight the unique issues that writers face covering science in its current context," said CASW Executive Director Rosalind Reid. "Given the strong response to our first call for proposals this year, we hope to make this a continuing part of the annual meeting."
Patrusky Lecture
Microbiologist Jo Handelsman, associate director for science at the White House Office of Science and Technology Policy (OSTP), is this year's Patrusky lecturer.
A pioneer in metagenomics research, Handelsman is a Howard Hughes Medical Institute Professor and Frederick Phineas Rose Professor of molecular, cellular and developmental biology at Yale University. Her current White House work focuses on advancing biological research, STEM education, and diversity in science.
The Patrusky Lectures were launched by CASW in 2013 to honor Ben Patrusky, executive director of CASW for 25 years and director of the New Horizons in Science program for 30 years.
Special movie screening
The meeting features a specially arranged screening of Merchants of Doubt, a new documentary about the manipulation of the climate-change debate. Following the film, Harvard historian and geophysicist Naomi Oreskes, co-author of the book the film is based on, will join CASW board member Cristine Russell onstage to talk with science writers about the film and ongoing controversy.
Tours and field trips
To help attendees explore top science destinations in and around Cambridge, Knight Science Journalism is lining up a tantalizing variety of optional tours and field trips that include:
Marine Biological Laboratory and Woods Hole Oceanographic Institution
BU Photonics Center and National Emerging Infection Disease Laboratories
Dana-Farber Cancer Institute
Harvard's School of Engineering and Applied Sciences Laboratories
Harvard Museums of Science and Culture
Draper Laboratory
Broad Institute
Biogen, Novartis, and other Kendall Square life-science companies
Story Collider
The Story Collider is coming to ScienceWriters2015 and wants you as its next storyteller. This national show features true stories about science, told live on stage. On Monday, Oct. 12, a special ScienceWriters2015 edition takes place at the Oberon Theater in Harvard Square.
Feeling bold? We're putting out a call for volunteer storytellers. You'll have plenty of help from the show's producers to make your story great.
Stories are not lectures; they have a beginning, middle, and end, in which you undergo a change. Typically eight to 10 minutes, they can be about anything: how you first fell in love with science, how your work has affected your personal life, challenges you've faced in your work, etc. Examples can be found at the Story Collider archive.
Send a short pitch to stories@storycollider.org with "ScienceWriters pitch" in the subject line. Deadline for pitches is September 4.
ComSciCon, ScienceWriters2015 join forces
A new group of attendees at this year's conference will be Boston-area science graduate students participating in a writing workshop called ComSciCon, scheduled in coordination with ScienceWriters2015.
With support from CASW and funding from the Howard Hughes Medical Institute, a group of about 15 graduate students interested in science writing as a career or professional focus will participate in a ComSciCon workshop at MIT on Friday, Oct. 9. They will then attend ScienceWriters2015 and hold a "write-a-thon" following the first day of the New Horizons science sessions.
"We are excited to be expanding ComSciCon to interface with ScienceWriters2015," said Erica Palma Kimmerling, a Tufts University graduate student in biomedical engineering co-chairing the workshop with Kara Manke, who attended ScienceWriters2014 and has just completed a chemistry Ph.D. at MIT. "We think this new workshop will be a great professional development experience for graduate students with a demonstrated interest in science writing. Participants will have the chance to engage with professional science writers while attending the NASW program. Workshop attendees will also take part in a complementary program meant to strengthen their non-technical writing skills."
The HHMI funds will allow ComSciCon to provide small honoraria to professional science writers serving as workshop presenters on October 9. If you are available to assist with the workshop or willing to serve as a mentor to a participating student during ScienceWriters2015, please contact epkimmerling@gmail.com or CASW Executive Director Ros Reid, ros@casw.org.
(NASW members can read the rest of the Summer 2015 ScienceWriters by logging into the members area.) Free sample issue. How to join NASW.