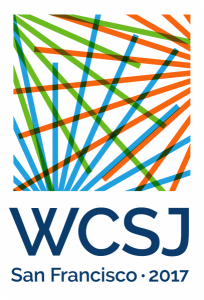 NASW is looking for volunteers to lead specific aspects of the 10th World Conference of Science Journalists, which we are hosting in partnership with CASW and the World Federation of Science Journalists this year. The conference will be held October 26-30 in San Francisco. It will be much like our annual ScienceWriters conference, but bigger and longer with a lot more moving parts. We need your help!
An important heads-up even if you are not planning on volunteering: Registration for the conference and hotel open on May 1. Registration will remain open until early October, but as with the annual ScienceWriters conference, we suggest you register early if there are field trips you are particularly interested in or a hotel rate you really want to get. Look for full program information on wcsj2017.org later this month.
WCSJ2017 volunteer positions open
Awards experience organizer
An international meeting of 1,200 attendees means that we need to change the way we present our annual Science in Society awards. Awardees from NASW, CASW, and potentially other international associations will be honored on the opening evening of the conference, Thursday, October 26, with a champagne toast in the exhibit hall and the debut of one or more short videos capturing comments from winners that will then run throughout the conference. It will be a champagne toast reception with some general welcome and congratulatory remarks.
What we need: A creative, organized volunteer to envision what this new awards celebration should be and to work within a budget to make it all happen. If desired, the organizer can recruit a committee of additional volunteers to assist. The awards experience organizer will first work with Ros Reid, CASW's executive director, to determine the scope of the awards presented and develop a plan for complementary online content with Shannon Hall, managing editor of CASW Showcase. The organizer will then work with NASW's executive director, Tinsley Davis to set up logistics and a timeline for the event. During the summer and through September, he or she will work with volunteer producers to contact award winners as they are known and solicit footage. Onsite, the awards experience team will be responsible for the flow of the event.
Welcome chair
World conferences are characterized by an opening plenary talk followed by a lively and enthusiastic welcoming ceremony infused with local flair and the culture of the host country. WCSJ2017's opening ceremonies will take place on Thursday afternoon, October 26.
What we need: A creative, enthusiastic volunteer, preferably with local connections to San Francisco or the Bay Area to envision, plan, and execute the ceremony. The plenary speaker has already been recruited, so the chair will focus on the "flair" and work with the organizers to develop the timing and flow of the session. In addition, the chair will work with the Communications Committee and SanFranciscoTravel to develop "What to do in SF/northern CA" pages for the website and gather coupons or discounts for local tours and activities. If desired, the chair can recruit a committee of additional volunteers to assist.
Onsite volunteer coordinator
During the conference, we'll need onsite volunteers to do everything from monitor session rooms to assist with bus loading.
What we need: An organized volunteer with strong communication and planning skills. The volunteer coordinator will work with NASW's executive director, Tinsley Davis, to define the onsite volunteer needs (including pre-conference activities like stuffing of bags), develop a schedule, recruit, and manage onsite volunteers. While onsite, the volunteer coordinator will liaise with the staff, including the transportation coordinator, to set up volunteer briefings, etc.
To express your interest in any of the roles above, please send an email to volunteer@wcsj2017.org no later than Friday, April 14. In the subject line, put your name and the position, e.g. "Tinsley Davis, social/welcome chair" Then, include your name, the position, and a short statement of interest (250 words max) and any relevant experience in the body of the email.
Thank you!