AAAS HONORS EXCELLENCE IN SCIENCE JOURNALISM
The search for life in the universe, the promise and risks of gene therapy, AIDS in Africa, and the invention of the transistor are among the topics tackled by the journalists who have won the AAAS Science Journalism Awards competition for 2000.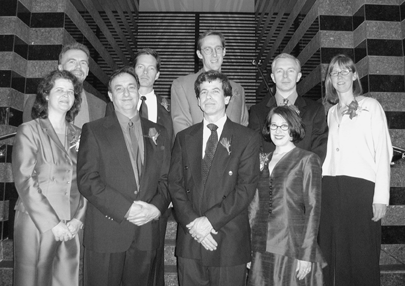 Recipients of the 2000 AAAS Journalism Awards: Front Row (L to R): Moira K. Rankin, Ira Flatow, Rick Weiss, Eliene Augenbraun. Back Row (L to R): David Barrett Wilson, James B. Erickson, Mark Schoofs, Gino Del Guercio, Deborah Nelson
Rick Weiss and Deborah Nelson of the Washington Post won the competition in the large newspaper category for "Gene Therapy," published Sept. 29, Nov. 21, 1999 and March 7, 2000. Their series on the death of gene therapy recipient Jesse Gelsinger was honored for its critical look at hard science, science policy, and the social impact of science, as well as balanced reporting and accuracy in the face of breaking news.
James B. Erickson of the Arizona Daily Star won the award for the small newspaper category for his March 5-7, 2000 series "Signs of Life." Erickson's series on the search for life in the universe provided vivid and clear explanations and responsible context for his topic, and uncovered the local angle in a complex scientific issue.
The award for outstanding science writing in the magazine category was given to Mark Schoofs of the Village Voice for AIDS: The Agony of Africa, a series that ran Nov. 30, Dec. 7 and 21, 1999. Schoofs' series on the impact and history of the disease on the African continent wove together clearly presented science and little-known facts about attitudes about AIDS in Africa, and provided a unique African perspective of the disease.
In the radio category, Moira K. Rankin and David Barrett Wilson of SOUNDPRINT Media Center, Inc., were recognized for their series "Exploring the Universe" (Jan. 28, June 23, and July 28, 2000). Rankin and Wilson created original radio programming on the process of science, which incorporated effective sound effects, high-quality production values and excellent writing.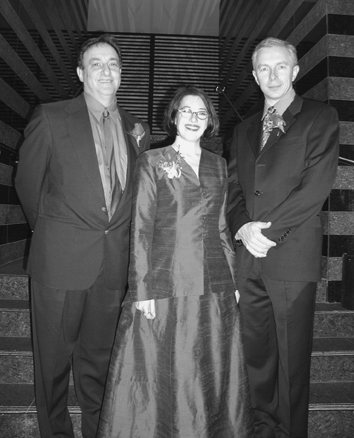 (L to R): Ira Flatow, Eliene Augenbraun, and Gino Del Guercio were winners in the television category
In the television category, Gino Del Guercio of Boston Science Communications, Eliene Augenbraun and Ira Flatow of ScienCentral, and Richard Hudson of Twin Cities Public Television/PBS won for their documentary "Transistorized!" (Nov. 8, 1999). They were praised for their originality and initiative in taking a difficult and technical topic-the invention of the transistor-and making it into an extremely "watchable" story.
Since the awards program's inception in 1945, more than 300 individuals have been honored for their significant achievements in the field of science reporting. The Whitaker Foundation, which supports research and training in biomedical engineering, has sponsored the AAAS Science Journalism Awards since 1995. The winners of the 2000 awards were honored on Feb. 16, 2001 during the AAAS Annual Meeting. No award was given this year in the new "online" category.
#
(Source: AAAS news release)