Volume 46, Number 1, Spring/Summer 1998
---
The Kolata Story . . .
When No News Made Big News Over and Over
by Howard J. Lewis
The most talked-about science news story in years appeared in the top left, off-lead position on the front page of The New York Times on Sunday, May 3, with the peculiar property of containing no news at all. It featured a report by Times medical writer Gina Kolata about Dr. Judah Folkman's work on a promising approach to destroying malignant tumors by the use of two compounds--angiostatin and endostatin--that were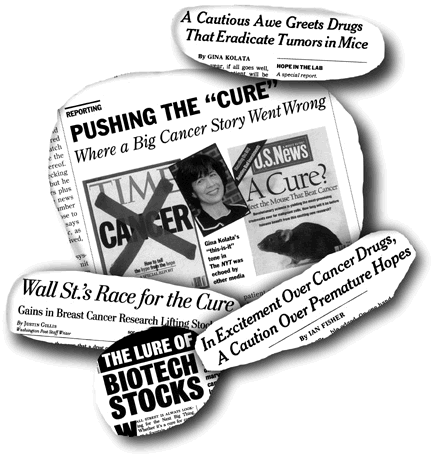 apparently successful in destroying human tumors implanted in mice. Folkman himself had described the promise of angiostatin in the September 1996 issue of Scientific American; according to a statement issued hurriedly by Harvard University's Office of News & Public Affairs, William Cromie had reported on Folkman's research February 1997 in the Harvard Gazette; it was apparently introduced to newspaper readers by Robert Cooke in the November 20, 1997 issue of Newsday, and--after formal publication in the November 27, 1997 issue of Nature--had been featured in several same-day news accounts, including Nicholas Wade's detailed, 837-word story in the very same New York Times. Wade followed up with a skillful and highly sympathetic profile on Folkman in The New York Times on December 9, 1997. But Kolata's article attracted extraordinary attention for other reasons. It had the page and the position, it had an astonishing quote from Nobel laureate James Watson, and it had the Kolata touch. It had impact. According to the Tyndall report on press play, this year-old story ranked third in the week's news play, just behind the Daimler-Chrysler merger and the denial of White House executive privilege. And before it had run its course, it required the National Association of Science Writers to respond to ugly accusations in Editor & Publisher.
It made Carl Hathaway, in Rowayton, Connecticut, a very happy man. The money-management company he runs was one of the larger institutional holders in Entremed Inc., a small biotechnology firm that supported Folkman's research, and Hathaway was watching its stock shoot from $12.06 to as high as $85 by the end of the day. As he later told Andrew Pollack of The New York Times: "I've been in this business since 1959, and I have never seen a one-day experience like Monday in any security," adding pleasurably that he sold more than half his 325,000 shares for a tidy profit. It was also reported that a number of Harvard scientists who had heard Folkman speak and who had some loose change bought EntreMed on spec and also sold it on Monday for a tidy profit. [Financial commentators said later that the publicity was actually a disaster for EntreMed, since their stock would never go up again unless they really did cure cancer, and without the promise of another early run-up, it would be harder for them to attract good people to the development team.]
It made John Brockman, a New York literary agent, with a penthouse office in Manhattan just off Fifth Avenue, a busy man. He was Kolata's literary agent. Although Kolata was only one of his clients at The New York Times, Brockman was known for his success in generating fat advances for scientists and science writers. The Independent newspaper in England had suggested that one sign that a scientist had been "Brockmaned," was a six-figure advance. And according to a The New York Times article in October 1997 by James Gorman, "Editors and other agents who deal with Brockman, or compete with him, complain, off the record, about quickie book proposals, overblown advances and books that do not come in on time or in good shape. Unlike most agents, he submits proposals to a number of publishers at the same time, rather than dealing with them one at a time." As Gorman quoted one editor, "He's always looking for huge money."
According to follow-up articles in The Boston Globe, Baltimore Sun, The Los Angeles Times and elsewhere, Brockman saw big money in Kolata. Upon reading her Sunday Times article, he called her immediately to say: "This is the book of a lifetime. If you can get me two pages by ten tonight, I'll get two million to you by the end of the week."
That same Monday morning the press office of the National Cancer Institute was hastily preparing statements in response to a spate of follow-up calls from the press and from families of cancer patients. They said in part:
The National Cancer Institute (NCI) is encouraged by results from animal studies that suggest that compounds isolated by researchers in the laboratory of Judah Folkman, M.D., of Children's Hospital and Harvard Medical School in Boston, Mass., may be potent anti-cancer agents. It is important to note that [clinical trials in humans] will not begin for many months, most likely not until 1999. Once testing has begun, the compounds, which are anti-angiogenesis agents, must be tested separately for safety and efficacy in humans before they can be tested together...
At this time, it is not possible to produce the large quantities of endostatin or angiostatin necessary for human trials... It is very important to emphasize that while the possibilities raised by these studies in mice are encouraging, it is not known whether endostatin or angiostatin will be effective in people with cancer.
At about the same time, the office of Dr. James Watson, president of the Cold Spring Harbor Laboratory, was preparing a letter to be published in The New York Times as soon as possible. Perhaps the most dramatic element in Kolata's article had been a quote from the Nobel laureate: "Judah is going to cure cancer in two years." Watson's letter to the Times, however, would say: "My recollection of the conversation... is quite different." He said he had merely told Kolata "at a dinner party six weeks ago... that endostatin and angio-statin should be in NCI clinical trials by the end of this year, and that we would know about one year after that whether they were effective."
The Times duly published Watson's letter, but in a statement to Reuters, Lisa Carparelli, a Times spokeswoman, said, "We stand by the accuracy of the story. We don't want to be in the position of quarreling with a prominent scientist who's also a source. We're glad Dr. Watson had an opportunity to elaborate on his views." And Nancy Nielsen, another Times spokeswoman, acknowledged to the Boston Globe that the conversation between Kolata and Watson was the "catalyst" for the May 3 piece and furthermore that the Times stood by its reporting of Watson's quote.
Watson's quote was a matter of much discussion among other science journalists. Dr. Timothy Johnson, ABC medical reporter, was troubled that "exciting quotes" from Watson in the Times incited so much interest. "Everybody knows he is kind of a verbal loose cannon; a genius, but one of those people who makes grandiose statements," he told the Boston Globe. On "Reliable Sources," a CNN news-analysis program, he acknowledged that the Kolata story was "fairly well-balanced as a whole, but all the positive quotes were on page one."
Other Media Reaction
The episode also stirred a wide range of response from other media.
New York Daily News columnist Mike McAlary, who has cancer, echoed the hopes aroused among readers with a piece headlined: "I Cling to This Hope for Life." Kolata's story led the Sunday night news programs of all three major networks, hyped in advance by teasers of varying legitimacy: NBC--"Curing cancer. Tonight: high hopes." CBS--"Human tests are set now on the promising new approach to killing cancer." CNN--"The battle against cancer: hopeful signs." Folkman was deluged by, and turned down, interview requests from every TV program from ABC's Nightline to PBS's Nova. The drumbeat of coverage by the Cable News Network as it felt compelled to feature the story "every hour on the half-hour," as one reporter complained, echoed through newsrooms of the print media.
"The widespread coverage, while laced with caveats," said the Globe, "may have contributed to a public perception that a cure for cancer had been found, simply because of the media's inherent power to disseminate information quickly and widely." ABC's Johnson called the explosion of coverage "fascinating, because this was information that has been around in the medical world for some time. It once again points out the power of a major newspaper suddenly putting it back in the news grid... In this case, it's a combination of all forms of the media being so competitive today, so concerned to be first, along with a huge number of people who are absolutely desperate, whose lives are up against the wall."
National Public Radio was able to interview Michael O'Reilly, Folkman's research partner, who was more generous than many journalists. According to a follow-up story in Quill, O'Reilly "called the initial Times piece sufficiently balanced and follow-up reporting adequate." But he also pointed out "that with any such 'breakthrough' reporting, desperate patients hear only scientists' hopes and not their reservations." Michael Waldholz, reporter and deputy editor for science and health at The Wall Street Journal, Quill noted, also told NPR that the Times story demonstrated the "tremendous problems in putting in caveats" when reporting complicated research findings in general-circulation publications and should warn us to be "very humble, especially when covering breaking news."
---

...reporting complicated research findings...should warn us to be "very humble."
---
Reporters badgered by their own editors or those of client newspapers for follow-up stories were not happy, and some made it clear.
One of the stiffest comments came from Mark Jurkowitz and Don Aucoin of The Boston Globe [It was, according to the Village Voice, the first such zinger since the Globe was bought by The New York Times five years ago]:
Normally seen as a bastion of sound and sober journalism, The New York Times helped trigger a media frenzy this week with a front-page story about a potential cancer breakthrough that was based on old news, a disputed quote and, according to some concerned observers, a dose of inflated optimism.

The episode not only illustrates the Times's ability to influence other news outlets, but it also suggests the need for media moderation on the medical front in an era of Viagra-induced expectations and rampaging pharmaceutical stocks. A Times spokeswoman, Nancy Nielsen, said last night that the paper is "very comfortable" with the placement and tone of the piece. What the story did was "uncover a markedly different level of optimism among researchers," she said.
The Washington Post, after running a front-page story on the suddenly surging fortunes of the drugs' developer, EntreMed Inc., published a cautionary piece by Rick Weiss on page 3 the following Wednesday, with this lead:
The two experimental cancer drugs whose ability to shrink tumors in mice triggered a stampede of interest earlier this week are unlikely to have a huge effect on human cancer if experience with similar drugs is an indication, several experts said yesterday. More than a dozen similar drugs have been in human clinical trials for several years now, researchers said. Those drugs use the same cancer-fighting strategy used by the new drugs, and they too looked very promising in mice. But after years of testing in people, none has yet lived up to the hopes generated by the animal experiments.
The Los Angeles Times also weighed in on Wednesday with a Page 1 article by Marlene Cimons, Josh Getlin and Tom Maugh. The lead pointed directly at their East Coast competitor:
The scientific process has given birth to many medical miracles over the years. But sometimes it can be a cruel parent.

As a result of a New York Times story Sunday trumpeting news that two chemicals discovered by a Boston researcher can cure cancer in mice, oncologists across the country have been overwhelmed by patients seeking this remarkable new therapy. But the doctors have told them that it won't be available for years, if ever.

"They are desperate to find something that is an easy way out of a difficult situation," said Dr. Philip DiScaia, deputy director of UC Irvine's Chao Family Comprehensive Cancer Center. "I get very concerned for the patients who have a false sense of hope that something can come of this immediately, when that is just not the case."

....

Nearly every week, researchers report that they have found new compounds that kill HIV in the test tube or that eradicate tumors in mice. Most often, these stories are downplayed by the media, which recognize that the path from test tubes or mice to humans is both long and strewn with potholes and land mines.
Rita Ciolli, a reporter for Long Island's Newsday, called on science journalists on other media for their views. She wrote that they had generally found the story to be "accurate in depicting the promise of the drugs and balanced with warnings that there was no evidence yet the treatment, tested on mice, would be effective in humans." But, she added, some were also "complaining that the story was old news, overplayed, and that the subsequent frenzy of stories cruelly gave false hope to those with the disease." Ellis Rubenstein, editor of Science, said: "The Times should be aware of whether a story is new enough to be put on the front page." A "media frenzy," he told her, had been "set off because the story was so prominently displayed, causing other editors and producers to order up their own stories 'without any critical judgment or awareness of the impact that it would have on people.'" Dan Greenberg, now a visiting scholar in science, medicine and technology at Johns Hopkins University, said the Times report should have put the issue in better context: "When you are talking about miracle cures for deadly diseases, you are playing with dangerous explosives ... There is a horrible misunderstanding now about these drugs; not one life is going to be saved in five years because what has come out of this mouse research," he told her.
The Baltimore Sun focused on the now-canceled book proposal, particularly Brockman's disappointment: "I see the biggest deal I've handled in 25 years going down the drain. I see Gina walking away from $2 million, probably $3 million by the time it's all over... I couldn't believe it. This is a reporter who's beyond reproach." But the Sun also found a journalist unwilling to censure Kolata out of hand. Donald Drake, a veteran medical reporter and now medical editor at the Philadelphia Inquirer, agreed that the book idea "looked bad," but, he said, "If I had the data that she showed in The New York Times, I'm sure I would have written it with the same amount of enthusiasm, assuming my other checks didn't yield information that would make me skeptical."
Drake was also interviewed by Richard Harris in a segment of "All Things Considered" on National Public Radio May 5. Commenting on the tendency of some reporters to overreach, Drake said, "A lot of journalists, anxious to be first, will bet on every horse in the race. And, of course, they'll pick a winner, but they'll also pick ten losers. And I think that's clearly wrong... But I think it's equally wrong not to bet on any horse, to act like there will never be a winner... If there was ever a discovery of a cancer cure, for most or many forms of cancer, the initial report of that cancer cure would probably be something just like this." He added that Kolata's story "might not be the case, but if there was such a discovery, this is the way it would look at this stage."
Judy Muller, an ABC correspondent in Los Angeles, voiced a different view on National Public Radio's Morning Edition--about a friend with cancer: "If my friend reacted like thousands of other cancer patients, she picked up the phone the very next day and called her oncologist... Desperate people don't pay much attention to cautionary paragraphs buried below the headlines of hope... Hope sells, whether you're talking newspapers or stock."
John Crewdson's May 5 article in The Chicago Tribune, surely without intention, demonstrated the difficulty facing any medical writer seeking to avoid undue speculation about cancer cures. After duly noting the "premature speculation" in Kolata's article, Crewdson was himself tempted to speculate in his own article-- if not prematurely, at least very early in the game: "A potentially more promising experiment, not yet reported in the scientific literature, found that when endostatin was given in combination with angiostatin, another protein previously discovered in Folkman's lab, a single course of treatment lasting less than a month caused tumors to disappear completely in a small number of mice."
The Times Takes Another Look
Meanwhile The New York Times itself had begun to back away from the story. On May 5, it published another front-page story, this one by Ian Fisher, headed: "In Excitement Over Cancer Drugs, A Caution Over Premature Hopes." Its origin was revealed by Eliot Marshall in the May 15 Science. He wrote: "According to a staffer at Memorial Sloan-Kettering, another Times reporter who had been working on a cancer-related story at Sloan-Kettering, Ian Fisher, inquired on behalf of a colleague with cancer about getting treated with angiostatin and endostatin. He learned firsthand that these compounds were still unavailable. And on 5 May the Times published Fisher's front-page story on the lack of clinical data on these compounds and the potential drawbacks of anti-angiogenesis therapy."
---
"...readers and doctors told us there was a notable reaction to our Sunday story..."
---
Nancy Nielsen, the Times spokesperson, explained that the Times had followed up on the story because "readers and doctors told us there was a notable reaction to our Sunday story," particularly from patients demanding the drugs. That was certainly plain in Fisher's story. He led with the report of a prominent New York City oncologist who had been shaken by a call from a wealthy and very sick patient: "Would a large infusion of cash get me the drug any quicker?" Fisher also checked back with Dr. Richard D. Klausner, the director of the National Cancer Institute, who in Kolata's story had called the anti-angiogenesis drugs the NCI's top priority, and "the single most exciting thing on the horizon" for the treatment of cancer. Now Klausner was saying, "I'm getting faxes and E-mails... People want the drug. They're asking me, 'Couldn't we just compassionately release it?' I have to tell them, 'It doesn't exist...' It's such a roller coaster for people whose relatives are dying. It's very difficult to maintain understanding when something is available in animals but not in people."
[Perhaps Dr. Klausner also received some flack from his own constituency for his quotes in the original Kolata story. A few days after the original Kolata article appeared, the Times correction column noted: "A front-page article on Sunday about two promising new anti-cancer drugs included an imprecise paraphrase of a comment by Dr. Richard D. Klausner, director of the National Cancer Institute. As noted in the next paragraph, he said he was "putting nothing on a higher priority'' than clinical trials of the new drugs with patients. He did not say the drugs were his highest priority."]
Even Laurence Altman, the Times' M.D. medical reporter, felt obliged to insert in his coverage of a subsequent meeting of the American Society of Clinical Oncology: "The New York Times was repeatedly criticized at the meeting for a recent report on this work. While not criticizing the research itself, doctors said the Times reporting of it was premature. Several leaders said that, as the article noted, in the past a number of experimental drugs cured cancer in mice but proved ineffective or too dangerous in humans." Altman, however, also suggested that premature celebrations may have also been generated by the research community itself: "Under pressure from elected officials and shareholders to justify investments, scientists have stepped up their public relations efforts to show results, even small findings." And later: "Oncologists lobbied journalists at the meeting to publicize a need for more Government money for clinical trials. Additional pressures for publicizing findings come from marketing experts who seek to promote medical centers."
Times spokesperson Nielsen had told the Globe that the Times featured the Kolata story despite the earlier reports on Folkman's work because the 1997 stories were "narrower... Gina Kolata's story was a broader piece about an optimistic trend" in cancer research, she said. Altman's report suggested that the optimism may have been intentionally generated by the same research community that protested the resulting news stories. Certainly there had been a notable cascade of concurrently optimistic articles. Altman, in a May 18 article, quoted a news release from The University of California at Los Angeles describing the new drug, Herceptin, as a "breakthrough" treatment for breast cancer; on the same day, The Wall Street Journal reported that a new drug, "Camptosar, derived from a Chinese tree and originally developed by a Japanese yogurt company, is producing the first increases in decades in the survival time of advanced colo-rectal cancer patients," and that "new studies show Bristol-Myers Squibb Co's Taxol producing the greatest lengthening of lives in post-surgical breast-cancer patients since the advent of chemotherapy four decades ago." And if that weren't enough, according to the Journal, "Johnson & Johnson treated cancer doctors to a special private show by 'Tonight' show host Jay Leno. Amgen Inc. and Lilly dispatched oncologists to parties at Universal Studios. Lilly's guests saw a 'Waterworld' show featuring a plane diving into a water tank and gunfights on jet skis." Rick Weiss, in The Washington Post, picked up on raloxifene: "Compared with those who took dummy pills, post-menopausal women who took one tablet of raloxifene daily had about one-third the odds of getting invasive breast cancer after two years." It certainly is an exciting era for the pharmaceutical industry. Not only are they now able to advertise prescription drugs in consumer publications, but drug stores have begun to compete on price. One chain of pharmacies placed an ad in The Wall Street Journal for Viagra at a special price of only $39.95 for five tablets.
Adverse Reactions to Book Idea
Meanwhile, the book idea was running into trouble. According to an article in the May 8 New York Times by Felicity Barringer, Kolata pulled back the proposal the previous Tuesday after consulting with her editors. "I think we're talking about credibility," Kolata had told her. "Once people think I'm not going to be a credible reporter, I'm not going to do a book." Joseph Lelyveld, the executive editor of the Times, agreed. He told Barringer, "We don't want reporters trading on stories they are currently covering. There is the danger of a conflict of interest, and there is an appearance of a conflict of interest." Nothing was said about a report in The Los Angeles Times that Kolata is under contract to Farrar, Straus & Giroux Inc., to write a book about a flu epidemic--also based on a New York Times story she had written.
But the ill wind that blew down the Kolata-Brockman proposal blew a great deal of good for another science journalist. Bob Cooke, science writer for Newsday, had written an early piece on Folkman's work, before its appearance in Nature, and--after a discussion with Folkman--had placed a detailed book proposal in the hands of his agent, Faith Hamlin, and then left for a rafting trip on the Colorado River. On his return he found a call-waiting from his agent. She told him to sit down. She then reported that Kolata's story, before it had been withdrawn, had started a bidding war among publishers for Cooke's book. The end result: a million-dollar offer from Random House.
---
It is an ill wind turns none to good....
Thomas Tusser
Circa 1515-1580.
---
The Weeklies Join the Chorus
The newsweeklies had a special problem. Shannon Brownlee, of U.S. News and World Report, had told Rita Ciolli of Newsday that she, like many other science writers, had known about Folkman's research for years, "but I would never say to my editors, `Let's put this one on the cover.'" Now, she added, "all of us are compelled to make a big deal over this."
Big deal indeed. All three major newsmagazines felt obliged to feature on their covers a story that was now more than six months old. Brownlee and Nancy Shute summarized the progress of Folkman's research team and then carefully downsized the expectations of cancer patients and their families by charting the slow and careful process involved in clinical trials. The magazine's cover, however, bore a punchier message: "A Cure? Meet the Mouse That Beat Cancer--Revolutionary science is yielding the most-promising treatments ever for malignant cells. How long will it be before humans benefit from this exciting new research?"
---
"A lot of journalists, anxious to be first, will bet on every horse in the race..."
---
Time magazine's Christine Gorman wrote: "For a few heady days last week, it seemed as if the whole world was a cancer patient and all humankind had been granted a reprieve. Triggered by a front-page medical news story in the usually reserved New York Times, all anybody was talking about... was the report that a combination of two drugs could, as the Times put it, "cure cancer in two years." Gorman called it "science journalism gone awry. Although the original story... was sprinkled with the necessary caveats, it distorted the significance of EntreMed's research in several important respects and exaggerated and romanticized the role of the drug's discoverer..." Discussing the story later on CNN, Gorman complained that the Times should have known that positive quotes tend to overpower cautionary warnings. "Part of our responsibility as journalists," she said, is "to realize the kind of reaction our stories are going to have." Time's cover, however, suggested that Gorman's message had not reached its designers. It featured the word "Cancer" in giant block letters Xed-out in red by two broad brush strokes. In considerably smaller type below: "How to tell the hype from the hope."
Newsweek's Sharon Begley and Claudia Kalb bore down on The New York Times story for its use of Watson's quote to suggest that Folkman's work might "cure cancer in two years." It called the outcome "the media equivalent of a virulent flu," infecting the print and electronic media "with the idea that researchers could actually cure the disease that American fear more than any other." Newsweek--obviously pleased to interview Folkman as he "blew off Dan Rather, Peter Jennings, and Ted Koppel," and TV offers from Australia, Israel, Italy, France--devoted nine pages overall to the non-story, including a page on EntreMed and other biotech stocks. The first four words in the head for their story, "ONE MAN'S QUEST TO CURE CANCER," ran in 36-point type, CURE about 148 points, and CANCER maybe 100. [And, as this was being written, the July 20 Newsweek bannered SCIENCE FINDS GOD; several reporters associated with newsweeklies took pains to point out that their inputs on design elements are somewhat less than mandatory.]
Business Week, according to its nature, examined the incident from the marketplace--and was equally critical. A commentary by Catherine Arnst cited analysts who lamented the way the Times had played the story. Coming as it did, shortly after stock prices had soared with Viagra, Tamoxifen and Evista, she wrote, "the message arrived when the public and Wall Street were exquisitely tuned to hints of the next wonder drug. But those drugs are already on the market..." "A lot of new investors don't have a very sophisticated understanding of the pitfalls involved in creating new drugs, especially cancer treatments," Volpe Brown Whelan analyst David M. Steinberg told her.
The salmon-tinted pages of The New York Observer, always alert for dishy revelations about other media, feasted on the Kolata episode and was more successful than the competition in getting past the Times spokespersons to Editor Joseph Lelyveld. "I have to say, the reaction to the story was startling," he told the Observer. "Were we to do it over again, I think we still would have put it on the front page. But the caveats which were in the story probably would have been more forceful and marshaled higher."
"As I understand it, and I'm not an expert on this, the difference is the results on mice are more ambiguous in the other cases," he continued. "Some of them are farther along, but the results have not thus far been as dramatic." At any rate, Mr. Lelyveld said, the Times hadn't intended to get into the business of comparing cancer research data: "We're not a medical journal, and we've never sworn to only publish peer-reviewed stuff... We were reporting, we thought, on science and process, and not on the scientific conclusion...We ran it on the front page because we sensed --- and our reporter sensed --- that there was an unusual excitement [about the drugs]...We have a front page language that our readers understand. If we were reporting that cancer was going to be cured in two years, we would have had a banner headline." Later, in response to an Editor & Publisher query on the Times' even grander front-page play on Tina Brown's resignation as New Yorker editor, Lelyveld explained that the Times had no rules about the front page: "We're not really as theological about this as some people might think.. There are no laws saying stories can't go on the front page unless they have HMO or IMF in the headlines."
The Times story also led off Press Clips, James Ledbetter's media column in the Village Voice. Evoking a startling parallel, Ledbetter said that Kolata's story had "given the paper its worst publicity blitz since 1991, when the Times printed the name of the woman who accused William Kennedy Smith of rape." Ledbetter was also fascinated by the Watson quote, observing that Watson "has in the past distanced himself from remarks in the papers," but also criticizing Kolata (as did others) for not checking back Watson's remarkable assertion. When Ledbetter asked, "What about Watson's assertion that he did not know he was speaking for attribution?" a Times spokesperson replied, "He knew who he was talking to."
The Specialized Magazines
The more specialized magazines joined the chorus. In Science, Eliot Marshall wrote: "These events provide a troubling vignette of the binge-and-purge dynamic of some science reporting, in which overenthusiastic initial coverage provokes a surge of negative reports. And many questions remain about the episode, among them why the Times chose to give such prominence to the story when the basis for it had already been widely reported--including two articles in the Times itself last year. Marshall

also picked up on the Watson quotes--that "Judah is going to cure cancer in 2 years" and "Dr. Watson said that Dr. Folkman would be remembered along with scientists like Darwin as someone who permanently altered civilization." According to Marshall, "Watson says he was unaware that his dinnertime comments were going to be quoted and was 'horrified' when they were."
[Many of the several hundred messages that flowed into nasw-talk, the listserve sponsored by the National Association of Science Writers, commented on the use of the Watson quotes. A substantial number of writers said they would check with a source before using a quote picked up at a social function--and, some added, especially from an individual notorious for extravagant remarks in such situations.]
The New Scientist of May 9 snorted that "people who grumble about science having a low media profile... are behind the times. These days, newspapers and broadcasters are so keen to cover advances in science and medicine that we face the reverse problem--knowing exactly why a story is in the news. "The [Folkman] story grew legs because The New York Times gave it space in a feature article on Sunday. Once the bandwagon was rolling it was in nobody's interest--not the researchers or the cancer charities, not the company developing the drugs, not even the mighty US National Cancer Institute--to make it clear this was no breakthrough. Just last year's news." [As noted earlier, the NCI actually did take unusually quick action to counter overblown public expectations.]
The New Yorker, now also chasing the news, contrasted the Kolata story with the earlier Wade version, which, it said, "had been careful not to overhype the findings..." A commentary by Atul Gawande had some strong reservations about medical journalists in general. He termed "medical hype.. a particularly virulent organism, playing, as it does, on our ingrained hopes for survival and sustained youth." "An unavoidable part of the syndrome," he continued without pause, "is that a handful of elite science journalists hold more power over medicine than any doctor in America does... desperate patients, newspaper clippings in hand, clamor for the latest pill, so doctors make do with what's in the news and what the drug-company detail men tell them. Reporters quickly move on to write up the next big drug, and doctors are left to react and improvise, practicing medicine by their wits."
One of the strongest and broadest attacks on Kolata came in the July 6, 1998 issue of The Nation from Mark Dowie, based at MIT, "studying the relationship between science and philanthropy." Acknowledging that Kolata "is an ace [at] developing sources, procuring documents, researching complex data and breaking a hot story in clear and dynamic prose," he saw a gradual accumulation of professional disrespect as a result of her combative coverage of AIDS research, silicone breast implants, breast cancer, food irradiation and environmental hormones (endocrine disrupters). Dowie's bill of particulars against Kolata was based in part, he wrote, on his re-interviewing a number of her sources:
[I]t becomes evident that she appears to have decided before making her first call what her story will say. Her questions are suggestive, her tone combative. In the interest of the appearance of balance, sources of all persuasions are interviewed. But their quotes are carefully selected, at times modified to substantiate the predetermined position. Those scientists who disagree with her are either ignored, dismissed or trumped by someone anointed with higher authority--which usually means a longer string of initials after their name. The sources who agree with the author generally outnumber those who don't by a factor of five or six.
Dowie cites a number of authorities interviewed by Kolata who remain unhappy with the results of their collaboration. But to Dowie's eye, Kolata is only one of a string of New York Times correspondents he names, who "to the extent that they reflect the attitudes of the Times as an institution, [suggested] a Times policy toward coverage of controversial products of technology that is anti-environment, pro-corporate and fundamentalist in its approach to scientific inquiry."
[Editor's Note: Several sources available to ScienceWriters expressed strong reservations about several of Dowie's blanket accusations, particularly on the harmful effects of silicone breast implants. And since Dowie was based at the Massachusetts Institute of Technology, it was notable that his list of Kolata's sins did not include her front-page article in The New York Times of December 19, 1990 that savaged an MIT agreement with Japan and brought these comments from then MIT President Emeritus Jerome B. Wiesner, excerpted from his letter to the Times: "I would not have guessed on December 19th, the degree to which The New York Times can make news and the degree to which their front page is accepted as gospel. So much so that others will even write editorials concerning what appears, without checking the facts. Gina Kolata's story is inaccurate and fabricated but, the sad truth is, that almost does not matter."
Dowie also erred in suggesting in his article that it was next to impossible to get the Times to publish corrections when errors were pointed out. On April 15, 1992, a major Kolata error was corrected on the front page, by Kolata herself and then gently explained by her boss at the time. Kolata's lede read: "The chairman of a National Academy of Sciences panel studying the forensic technique of DNA fingerprinting asserted yesterday that laboratories analyzing DNA should be held to higher standards. Contrary to a report in The New York Times [on April 14], he said the panel was not calling for a moratorium on the technique while those standards were being put into effect... Nicholas Wade, [then] science editor of the Times, said, 'We based our interpretation of the report on the views of legal experts, but erred in our article and headline in saying that the panel called directly for a moratorium on the use of DNA
typing.'"]
The View from Academia
In the July-August issue of The Sciences, published by the New York Academy of Sciences, Emily Laber saw the Times story producing in a "massive undertow, a great rush of clarification and fingerpointing about what virtually every scientific expert (including Folkman) now agrees was a cruel if short-lived trick perpetrated on the public psyche." And she saw another danger: "Granting that the story was overplayed, granting that caution was the proper and entirely justified response, there was the opposing danger as well: that genuine, promising science would get swept along--perhaps even lose out on funding--in the tide of recriminations." But a few paragraphs later, she made note of a reassuring circumstance that was missing from much of the negative follow-up reporting on the Kolata story--namely, that "workers in more than a hundred laboratories are developing dozens of similar drugs, two of which are now in the final stage of human trials."
A more personal and more troubling objection came from Michael Shapiro, who teaches magazine writing at Columbia University's Graduate School of Journalism. In the July-August issue of Columbia Journalism Review, he wrote not only as a journalist but also as a close relative of someone in remission. He reported feeling such excitement that "by the time I got to the third paragraph, I turned to my wife and said, 'This is it.' The power of that lead changed the context in which I read all that followed. The lead did not promise the cure for cancer. It did not have to; I read the story feeling that I was being presented with the news for which I had prayed... The opening was not, strictly speaking, untruthful: If clinical trials did, in fact, begin in a year then the first human subject would indeed be injected with one of the new drugs... But it was misleading in that it hinted, quite broadly, that with this vaunted injections the curing would begin." [Interestingly, the word "cure" appears only twice in Kolata's story--once in Watson's quote and then, quite correctly, in Kolata's text: "From bitter experience, most cancer researchers have learned to be leery of what one called 'that four letter word'--cure." And during a discussion of the episode on Reliable Sources, a weekly CNN news critique, a CNN producer noted, "You can say it's only mice over and over, but people with cancer in the family will hear only what they want to hear."]
Flak from the Internet
Alerted and possibly energized by the attacks in the print media, two of the gossipy online periodicals weighed in with their own by-lined criticism of the Times story. James Poniewozik in Salon Magazine on May 27 leapfrogged over the Kolata story to go after all three newsweeklies for featuring the angiogenesis story on their covers.
"A little well-conceived public indignation," he charged, "can usefully conceal journalistic shortcomings. Thus, when New York Times science reporter Gina Kolata published a trumped-up story on cancer research..., she cleared the way for the three major newsmagazines to run screaming cover packages opportunistically portending the end of cancers with the Kolata controversy as a pretext." He was, however, willing to issue a left-handed compliment to Time magazine for "the best overview of current cancer research, the best analysis of the Kolata fiasco and the best use of cover graphics to effect the same hype it condemns in print."
Microsoft's Slate Magazine found a new angle. Chatterbox columnist Mickey Kaus criticized Kolata's critics and found a justification for the Times' front-page play: "One constant complaint of responsible media critics is that important stories often don't get the attention they deserve for lack of a news peg. Maybe it was the Times' earlier decision to put the news on page A28--with Wade's milquetoast conclusion that the drugs 'may well prove relevant'-- that was wrong, and maybe the Times realized this and decided to correct the mistake." Nor did Kaus buy into the concern that Kolata's story was a disservice to families of cancer patients. Quite the contrary: "The medical system had better learn how to cope with this instantaneous, legitimate, global clamor for treatment, instead of complaining about journalists who fail to suppress or downplay the information that people want to have... Kolata and the New York Times have performed a valuable public service." Jack Schafer, another Slate columnist, had a different spin. He attributed the Kolata episode to the fact that the New York Times is slowly becoming Ben Bradlee's Washington Post while the Post is turning into the Old Gray Lady. Anyway, that's how it looks from Microsoft.
If the Times story generated a spate of comment in the published media, it created a deluge on the nasw-talk listserve--well over 100 messages a day for what seemed like forty days. Many were highly critical, some were supportive--that the story was fresh to the great majority of Times readers and all the necessary caveats were in place. A few were critical of the follow-up. Said one critic: "There's a fine line between analyzing a media feeding frenzy and joining in it. My take is that a lot of publications did the latter while claiming the high ground of the former."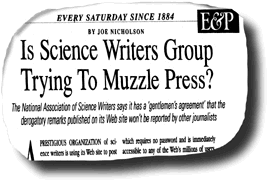 Some insisted that reporting on potential cures for fatal illnesses placed a heavy responsibility on the reporter to be sensitive to its impact on affected readers; nonsense, said others, it's not the job of reporters to second-guess what readers' reactions will be and adjust their writing accordingly. One set condemned the use of the Watson quote without checking back--since its legitimacy was questionable from the outset ("Curing cancer in two years"!?)--because it occurred at a social occasion and because Watson had a reputation for extravagant comment. A few writers felt strongly that a backcheck was required not only for the sake of accuracy but especially out of concern for readers with cancer in the family.
A small but highly exercised subset of reporters resented the lockstep effect of Times newsplay on their own organizations, resulting in demands for a second-day story on a non-event. Some criticized the story as overwritten; others said, "overplayed"--the fault lay more with the editor's decision to give it the second lead position in a Sunday paper; an analytical few said the problem was that the Watson quote, early in the piece, made the front page, while most of the caveats ended up in the jump. One constructive writer wondered if a sidebar on the failure of previous "breakthroughs" wouldn't have placed the story in proper context while illustrating the scientific process. Another hoped that the online discussion (which seemed endless while it was happening) might nevertheless produce a "sense of group ethics" on reporting about medical research. Against that was the unhappy observation that reporting on medical advances--unlike some other sectors of journalism--actually favors excess: Overplayed stories on medical research are quickly forgotten and do not seem to carry the same punishment as a really bad guess in a political or financial area.
After a period of time the blizzard of messages began to subside, only to have the drifts piled higher by a sudden gale. An op-ed piece on the Kolata controversy on a web page, HMS Beagle, was accompanied by a hot-linked footnote directing readers to "Reporting Cancer Cures--the National Association of Science Writers' extensive, impassioned, and archived discussion of the Gina Kolata article." There, neatly packaged by NASW Cybrarian Robert Finn, were three streams of messages generated by the Times story on the NASW listserve, nasw-talk. In response to a query from ScienceWriters, Finn reported in mid-July: "Since I put up the three-part compilation of the discussion, cancer1.htm has been hit 719 times, cancer2.htm has been hit 167 times, and cancer3.htm has been hit 128 times. This does not include the number of times the individual messages in the hypermail archive may have been hit."
If those archives had been posted with the idea of indicating a fadeout of the discussion in a wrap-up for historians, that's not what happened. The very existence of the document generated a brand-new storm that found its way to the cover of the June 20 issue of Editor & Publisher. "SCIENCE WRITERS CURB PRESS?," it asked. The lead in Joe Nicholson's article proclaimed the affirmative: "A prestigious organization of science writers is using its Web site to post derogatory comments about a New York Times reporter as it simultaneously demands that other journalists not quote from this public Web document." His charge appeared to be based on NASW president Richard Harris's explanation of the organization's ground rules on the proper use of comments volunteered to nasw-talk, one of the NASW message boards on the organization's website. As reported by Nicholson, "Harris said there was 'a gentleman's agreement among everybody who uses it, all journalists,' that messages on the Web site could not be used unless the message writers were contacted and granted permission." Harris's explanation received a bad translation in E&P's second head over Nicholson's article: "The National Association of Science Writers says it has a 'gentleman's agreement' that the derogatory remarks published on its Web site won't be reported by other journalists."
Harris made another attempt to correct the record in a follow-up letter to E&P: "The journalists and others who contribute to our on-line discussions have informally agreed to follow a very sensible journalistic practice: We have agreed to call one another for comment before quoting directly off the Internet. This hardly constitutes a 'demand,' despite E&P's assertion."
With that final attempt at clarification, the story that wouldn't die may have done just that.
---
Howard J. Lewis is editor of ScienceWriters.
---
Return to ScienceWriters table of contents.