Explaining science
Gerard Piel, the retired publisher of Scientific American, explained how he explained science.
"The narrative is the way to do exposition," said Piel. "That's the most painless way to explain."
"You tell a story," said Piel. "A story has a plot. It's a narrative."
The plot is: The scientist is confronted with a problem or question. He defines the problem. He frames a hypothesis, and designs experiments to test his hypothesis. He tells how he designed his experiment, how it worked, what evidence he got, and how that evidence changed the understanding of what he was working on.
"Francis Crick wrote the story for us about how he and Watson perceived the wisdom of Nature in having 2 strands in the DNA molecule," recalled Piel. Their problem was, "How is the design of an organism conveyed from one generation to the next?" The experiment was to find in the X-ray diffraction pattern the 3-dimensional structure of the DNA molecule. One hypothesis was that the strands were tightly twisted together like a rope. Another hypothesis was that they were held apart from one another, "by the bases holding hands across the winding staircase," said Piel. "He discovered that the polysaccharide strands of the DNA molecule were held apart from one another, as the helixes wind around each other, inside the spiral staircase, by the bases holding hands with each other."
"The use of image and metaphor is very helpful," said Piel.
"Scientific American is a heavily, strongly illustrated magazine, and the illustrations took a lot of stress off the words," said Piel. "And a winding staircase is a perfectly accurate and correct image for the bases as they rotate around in between the separated double helix," he said. "And that was the Watson-Crick discovery."
"Above all you make a narrative story about how the work was done," said Piel. "Because in the work of science can be seen the values of science."
"The most valuable thing Scientific American did was not convey a lot of information," said Piel. "We were in the business of understanding, not information. The valuable thing we did was to show how the work was done, what the grounds of scientific knowledge is, towards public understanding of science. That's the most important thing for people to know."
Piel expanded on this in his new book, The Age of Science: What Scientists Learned in the 20th Century (Basic Books).
"The values of science ought to be more widely respected in our society," said Piel.
Those values start with "autonomy of the individual," said Piel. "A scientist can't accept any authority about a question he's interested in except his or her own judgment. He or she has to hold that judgment in suspicion. He can trust no judgment but his own, but has to look at that judgment 10 times over. And then when he's done his work he has to submit it to his peers. And they'll argue like mad about whether he's right or wrong and what the significance is. And there we have the democracy of science. And the governing principle of their discussion is rationality and reason."
(For an explanation of the scientific method see the Internet Science Room, especially Richard Feynman.)
Competition
The competition today is not with each other, the editors agreed. The competition is the expanded science coverage in the New York Times, Wall Street Journal, Business Week, Time, Newsweek, the nightly news, and the rest of the media. The strength of the science magazines is that they are authoritative, credible, with a loyal reader base, and they can go into greater technical depth -- although they must avoid the danger of upsetting their reader base with changes, and they have to steer Icarus' path between dumbing it down too much or getting too technical.
"For us," said Rennie, "the real problem is making Business Week readers want to come in."
Female readers still elusive
Discover's readership has now reached 40% female, but the other magazines are predominantly male, despite vigorous efforts.
Scientific American has gone from 15% to 25% female. "What's really maddening," said Rennie, is "how abysmally the male-female results will skew along the most stereotypical lines you can imagine." It's almost, "If you make it pink the women will like it," he said.
For example, said Rennie, in reader surveys, an "abysmal" 22% said they were "very interested" in an article on breast cancer. However, 73% women, 16% men were "very interested." It wasn't because breast cancer is a female issue -- men weren't interested in prostate cancer either.
This creates a demographic trap. If you make articles more interesting to women, your overwhelmingly male readership declines. About 90% of Discover's newsstand sales are to men, said Petranek. "In order to increase newsstand sales, we do more guy-like covers, because the female covers do not do well on the newsstand."
"It's funny," said Hassler, whose readership is defined by IEEE's 94% male membership. "My 13-year-old niece sees this magazine her aunt works on and she goes, 'Eeeww! It's geeky.'"
One irony is that many of the editors are women. One reader wrote to Scientific American, "I've noticed a decline in your magazine. It seems to correlate precisely with when you started letting women work for you."
"It's really ultimately about advertising," said Petranek. "The intensity of readership is highest among women." Women feel stronger about a story, and are more likely to clip it and send it to friends. "So we view the female audience for Discover to be extremely powerful. The problem is that the advertising community doesn't." You're a better advertising sell as either a women's or a men's magazine, he said.
Scientific American Explorations, which is distributed at science museums, has a 70% female readership, since mothers read it to their children.
Scientific American
"Even people who are very well educated and very committed to the idea of science are much less willing than they used to be to sit down and read some kind of long article," said Rennie.
"If you want to communicate with the general public, you have to be willing to communicate with them on their terms," said Rennie, "and that means even if you dearly love the long essay form, and you have a deep appreciation for the aesthetic that gave birth to a magazine like this, you do find a way to reinvent it."
"We try to retain many of the same values," said Rennie. "We keep the science authors. We did open ourselves up to make use of some more journalists because we found that journalists could probably approach some kind of articles and present them the right way better than a lot of the scientists."
Scientists or journalists
So again comparing 1980 to today, instead of a 12-page article about the basic science of monoclonal antibodies (October 1980) by 1984 Nobel laureate Cesar Milstein, the October 2001 issue has a 6-page article on the current technologies and products of monoclonal antibodies by editor Carol Ezzell .
Milstein's introduction might not grab the casual reader: "When a foreign substance enters the body of a vertebrate animal or is injected into it, one aspect of the immune response is the secretion by plasma cells of antibodies: immunoglobin molecules with combining sites that recognize the shape of particular determinants on the surface of the foreign substance or antigen, and bind to them." The feature articles, as Piel described them, were well-selected journal articles with the conclusion moved from the back to the front, with definitions and explanations added for specialized terms and concepts.
Ezzell's lead is more inviting: "Molecular guided missiles called monoclonal antibodies were poised to shoot down cancer and a host of other diseases -- until they crashed and burned. Now a new generation is soaring to market."
Scientific American continues to publish authors who go on to get Nobel Prizes. Eric Cornell and Carl Wieman wrote in March, 1998 about the Bose-Einstein condensate; in 2001 he won the Nobel Prize in physics . Stanley Prusiner wrote in January 1995 about prions; in 1977 he won the Nobel Prize in physiology or medicine . And Richard Smalley, who wrote in the September 2001 issue debunking self-replicating nanomachines, won the 1996 Nobel Prize in chemistry for the discovery of fullerines.
"We were not offering passive entertainment," said Piel. "Our readers had to work. They were willing to and they were rewarded."
"I guess I was lucky I lived when I did," said Piel.
Advertising considerations
A large circulation of loyal, aging readers isn't enough. "We have audiences that are not just the readers," said Rennie. "We have an advertising audience that at some level also needs to be served."
"It seems traitorous for an editor to talk about how things get perceived in the advertising community," said Rennie traitorously. "So be it."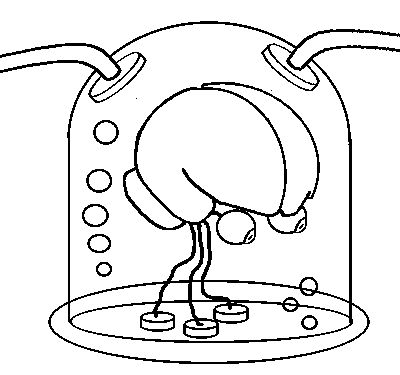 John Rennie, Editor in Chief, Scientific American
The 4-color page rate for 1 insertion is $45,000, though this is often heavily discounted. (It was once fashionable for journalists to profess contempt for advertising considerations. But it's a lot easier to pay a freelance writer another 25 cents a word, or a staff writer another $5,000 a year, if the magazine has another $100,000 to spend on the editorial budget.)
The advertising community, said Rennie, would look at Scientific American and say, "We don't understand why anybody under the age of 65 reads that magazine. We don't understand why we should be putting ads into it."
"We've got a big backlog of readers, many of whom stick with us forever," said Rennie. So in order to improve the demographics, they have to grow and add younger readers.
"We've also pretty much cornered the market of disembodied brains floating in aquariums," said Rennie, "and those guys just last forever and don't buy anything."
"If you're going to be a commercial magazine, said Rennie, "the reality is that those are the kinds of problems we have to deal with."
"We started to put a little more emphasis on some areas of technology," said Rennie. "Partly because there was a lot happening there and yes, also, being able to say, 'Look, we have a biotechnology slot,' makes it easier for the ad sales presentation."
But, said Rennie, he tried to keep "the same wine in a more attractive bottle."
"How you define biotechnology can overlap a lot with exactly the same sort of basic biology, molecular biology that we were doing before," said Rennie. "Well," he said conspiratorially, "that's my little secret."
"This has worked for us," said Rennie, "to make it the same Scientific American in terms of its strength and values, but one that works today in much the same way the old version worked before."
Madision Avenue idiocy
There was one important audience that Piel could never educate. "I never succeeded in getting Madison Avenue to understand the role that science plays in our culture," said Piel, "that scientifically-trained engineers, and managers that came out of those ranks, were significant people and made important decisions."
"They thought of scientists as coming in by the service entrance," said Piel. "We were able to show that our audience was very well-heeled so that we made a huge success in the 1970s and 80s as an upscale male consumer magazine."
But the advertising community didn't appreciate the financial clout of Scientific American's readers as investors. The advertising directed at investors in Business Week, Forbes and Fortune "all belonged in our magazine," Piel said enviously. "U.S. Steel, Alcoa, all the others should have been seizing the opportunity to talk to the most powerful audience in the country."
"Our people were very shrewed investors," said Piel. "They knew what they were buying because they were buying on the technology."
By 1980, Scientific American was a "huge success," said Piel. Time Inc. and Hearst created competitors, which could never compete with Scientific American on its own terms but "thoroughly confused our identity on Madison Avenue."
The advertising agencies had a "simple-minded idiocy and we never could bust it," said Piel. "They thought that science had nothing to do with money."
"We founded the best magazine about science that we could publish," said Piel, "and found an audience of 600,000 in the United States."
"I never got to understand Madison Avenue," admitted Piel.
Not that bad
A comparison of the new Scientific American with the old is reassuring, at least for me. The main thing I want is articles that identify and explain important areas of current research, particularly in biomedicine, and give me the basic background I need to go on to read the scientific literature, or interview a researcher.
Since April, there are features on unbilical cord stem cells, genetically modified food , violence, antibiotic resistance , the Rorschach test, insect flight , sign language, hair, nanotechnology in medicine, hypnosis , biofilms, cyanide fishing, human cannibalism, macular degeneration, mass extinction, anti-viral drugs, the evolution of human birth, school class size and angiogenesis. (One recent practice, which drives librarians crazy, is cute titles that don't tell you what the article is about, like "Behind enemy lines".)
The macular degeneration article, for example, is a bit short but gives me what I'm looking for. It explains the role of the retinal pigment epithelium, which clips off the ends of rod and cone cells, and the current treatments (although it's not on the Internet). Let's face it -- if I want a review article, I should read the New England Journal of Medicine (which is now also written to be more accessible).
Internet access
My biggest disappointment in Scientific American is its use of the Internet. Scientific American has been promising us the computer revolution with good accuracy for 50 years, but now it's the only major science magazine I can't read in full text on-line. They've become like the man in the joke who stayed up all night describing how wonderful it was going to be.
Internet links are supposed to give me further useful information, and they could compensate for the brevity, but they usually don't. The macular degeneration article links are either too simple or too specialized and technical. For further reading, "The evolution of human birth" recommends the authors' article in Evolutionary Anthropology. I wonder how many readers looked that one up. Actually, this article is related (joined at the pelvis, as it were) with an earlier feature article on the evolution of walking -- but neither are on the Internet. There have been many related articles, and I'd like to be able to read them together.
Some magazines, like Discover (and many medical journals , notably the British Medical Journal) are on-line free, in full text, to everyone. Some magazines, like Popular Science and Scientific American, have free, abbreviated, on-line editions omitting some of the best stories. Some magazines, like the New Scientist , Science News , and most professional science magazines, like Spectrum, have free, abbreviated, on-line editions, plus full text archives for subscribers.
As a subscriber, I want everything on-line. I want Vannevar Bush's Dynabook . I've invested a lot of time reading the magazines I subscribe to. Those magazines are much more valuable if I can look up an article that I remember reading, or look up related articles. When I recently wanted to review cardiology, I searched the New England Journal of Medicine , downloaded a few review articles, and got in a day what used to take a week. I can search BMJ. I'm even willing to pay a little more ($12 a year for the Science archives) -- but not $5 per article for the Scientific American archives .
Amateur Scientist
And finally, I can't understand dropping the Amateur Scientist. It is a loss of Scientific American's core values. It was like an uncle that taught you science. It's not my decision to make, and it's easy for me to talk when I'm not responsible for the financial viability of Scientific American. But it makes no sense to me.
The business argument is that less than 60% of the readers read Amateur Scientist, and less than 20% are "very interested." That's not enough for a modern magazine, where a feature needs 70% of the readers to survive. This is the Darwinian process that creates a magazine that attracts more readers, younger readers, readers who read the entire magazine, and the advertisers that it needs to survive and prosper.
I'm not convinced by that mathematical argument. If newspapers followed that logic, they'd never have science sections.
It's possible that a feature can be very important to a small but important part of its audience. Petranek said you have to build a coalition. That 20% can drive your coalition in a completely different direction, just as the far right drove the Republican party in a completely different direction. 20% of your readers can characterize your magazine. They can be the ones who recommend it to their friends, assign it to their students, write news stories about it, cite it in the scientific literature and on usenet, go on to become scientists and economists and win Nobel prizes. Try to imagine those 130,000 people who are "very interested" in the Amateur Scientist.
A small Japanese supplier was bought up by General Motors. At the signing of the merger the Japanese president gave a toast to the GM executives: "We would like to be a small but important part of General Motors -- like the testicles of a bull, a small but important part."
The Amateur Scientist was a small but important part of Scientific American.
Experimental science
There's something dramatic, exciting and essential to science about going into your kitchen and extracting DNA from an onion with ordinary household materials. It demonstrates the experimental method.
There's an important lesson in the process of trying something that doesn't work, figuring it out, and persisting until it does work, a lesson that would even be useful to investors wondering why other labs weren't able to reproduce Judah Folkman's angiogenesis compounds. You can't get that lesson from a magazine, from the Internet, from a computer simulation or from a teacher. You can only get it by doing it yourself.
Here's an example: In my New York City apartment, my cockroach population exploded. I heard that boric acid could kill cockroaches, but who can you believe these days? If boric acid works, why are they selling all those expensive chlorinated hydrocarbon insecticides? So I formed a hypothesis: Boric acid can kill cockroaches. I bought 2 pounds of boric acid in plastic squeeze bottles in Columbus hardware on 9th Avenue. I cut open a cardboard cockroach trap and sliced the gummed bottom side into 1-centimeter-thick strips with a paper trimmer. I taped a gummed strip to the top of the sink overnight to get a baseline. Next morning, I counted the cockroaches stuck to the strip: 23. I repeated it a few more nights for statistical confidence. Then, came the experiment: I squirted boric acid on all the corners, concealed surfaces and hidden spaces in the kitchen and bathroom. Next morning, I got up and ran to the gummed strip: 6 cockroaches! The next day, and for several days after that, the strips were empty. The cockroaches were gone. I now know my conclusion: boric acid can kill cockroaches. I didn't read it in a book or magazine, I didn't learn it on the Internet, I didn't learn it from any authority or teacher, and nobody told me. I set up an experiment and saw it for myself. Science isn't something you do in a laboratory. It's something that pervades your thinking all day. And that's what the Amateur Scientist taught me.
There was an anecdote that appeared in Scientific American which I can't find and fact-check because I can't search for it in full text. So I'll have to recall it from memory:
In 1895, in an American university laboratory, the first news arrived from Germany of the discovery of X-rays. A professor said to his students: "Gentlemen! We have everything here at hand that we need to reproduce that experiment! Let's go forth and do it ourselves!" After a day's enthusiastic work, they had done it, for the first time in America, right there in their lab.
That enthusiasm for experimentation, the ability to do it yourself on impulse, is so central to scientific thought that you can't understand science without it.
###
Further Information
I wrote a similar article, on