Richard Robinson
Science Writer/Science Editor
College and High School Science
---
Editor-in-Chief: Genetics MacMillan Reference, 2003
Genetics is a four-volume encyclopedia for high school students. Its 250+ entries are written primarily by experts in the field, edited to provide the background and reading level appropriate for this age. Most entries are illustrated with full-color line art or photographs.
Genetics covers every topic that arises in teaching high school genetics, and many that don't, from fundamental concepts to cutting-edge applications. It explains the history, theory, technology, and uses (and misuses) of genetic knowledge. It spans the field from classical genetics to molecular genetics to population genetics. Genetics stands alone as a single-source reference work covering this breadth and depth of material for this level. Students and teachers can use the set to reinforce classroom lessons (e.g., on basic genetic processes), or to expand on a discussion (e.g., chromosome structure or a genetic disease), or learn about an entirely new idea (e.g., eugenics or DNA microarrays).
For this work, as well as Biology and Plant Sciences, I hired the editorial board, created the table of contents, and outlined the scope of each entry. In addition, I edited every entry, ensuring scientific accuracy, coherence, interest, relevance, and clarity. Many entries required significant reorganization or supplementation to ensure that the proper background and connections to classroom material were provided, to ensure that the reading and vocabulary levels were appropriate to the high school student, and to add topically relevant details that keep reading interest high. I also designed most of the diagrams that illustrate genetic and cellular concepts in this work.
Editor-in-Chief: Biology MacMillan Reference, 2002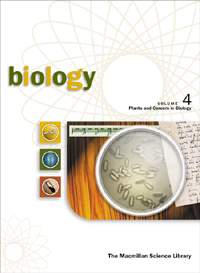 Biology is the second title in MacMillan's series of new encyclopedias for high school students. Its 432 entries span the range of biological subjects, from Active Transport to Zoology.
Editor-in-Chief: Plant Sciences MacMillan Reference, 2000
"Lovely to look at and delightful to read"--Booklist
| | |
| --- | --- |
| | Plant Sciences is a four-volume encyclopedia for high school students. Its 280 entries were written almost exclusively by professionals in the plant sciences, and have been edited to meet the needs and reading level of high school students studying biology. It is extensively illustrated in full color, and contains a glossary and comprehensive index. Topics include agriculture, plant ecology, systematics and evolution, molecular biology, history of botany, and careers in the plant sciences. |
View the cover and read the preface
Associate Editor, World of Chemistry Gale Research, 2000
Editorial Consultant: Modern Biology, Holt, Rhinehart & Winston 1999
Writer: Plants and People: Fifteen essays for Raven's Biology of Plants, 6th ed. Worth, New York 1997
Chapter 1: The Coffee Connection