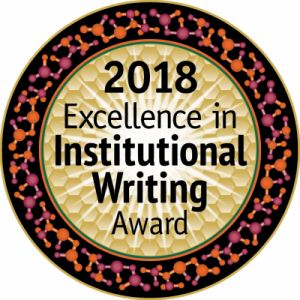 Entries for the current year's contest open on Feb. 7, 2018, and close on April 20, 2018.
The Purpose
The National Association of Science Writers established the Excellence in Institutional Writing Award to recognize high-caliber, publicly accessible science writing produced on behalf of an institution or other non-media organization.
Rules for Submission
Please follow the rules carefully. Submissions that do not follow these procedures will not be considered.
Any individual (staff or freelance) who produces science writing on behalf of one or more institutions is eligible to submit one entry.
An entry can consist of a single piece or any combination of written work up to a total word count of 5,000 words. Award is platform-independent: An entry can include press releases, news stories, feature stories, magazine articles, web content, audio or video scripts (not broadcast pieces), and similar materials. All materials must have been produced on behalf of an institution or other non-media organization.
Pieces included in an entry can have multiple authors, but the applicant must be an author of all pieces in the submission. Non-bylined pieces are subject to independent review for confirmation of authorship.
Work must be written in English, intended for the non-specialist, and first published or broadcast in North America between Jan. 1, 2017, and Dec. 31, 2017.
Entries will be judged on the quality of the writing and the effectiveness with which the work conveys accurate science to a public audience.
Only entries submitted online will be accepted. All entry material must be uploaded to be part of the entry.
To enter
There is no submission fee for current members of the National Association of Science Writers. The entry fee for non-members is $45.
Use the link in the menu to create your entry and complete all steps of the online entry process by 11:59 p.m. EST on April 20, 2018. Your entry is not complete until you receive a confirmation email.
DO NOT include a cover letter with any materials. You WILL provide a single cover sheet with specific information only.
All pieces submitted as part of the entry must be compiled into a single PDF for uploading. Maximum size is 5 MB. Web content must be submitted as part of the PDF, not provided as URLs.
Prize
NASW will award one cash prize of $2,000 for the winning entry. The award will be announced in September 2018 and presented during ScienceWriters2018, which will be held October 12-16 in Washington, D.C. Reasonable travel and up to two nights' hotel expenses of the award winner will be reimbursed. In cases of multiple authors, only one person's expenses will be covered, and the prize money will be split between the authors at their discretion. However, the prize money is intended for content authors, not publications or institutions.

Questions? Contact director@nasw.org

Enter now