NASW's monthly newsletter
The launch of Pitch Publish Prosper on nasw.org, opportunities to help at ScienceWriters2019, and a call for applicants for NASW's diversity fellowship are included in this month's edition.

A Field Guide for Science Writers
The official guide of the National Association of Science Writers contains an exploration of the most stimulating and challenging issues in science writing from a slate of prominent contributors.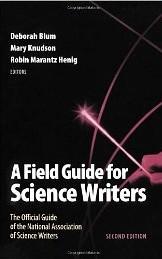 Science Writers' Handbook series
The Science Writers' Handbook and its spinoff titles have become must-read guides for all science writers. Whether you're a journalist, communicator, educator, or scientist, the books offer fun, pithy, and readable advice for launching a new career or enhancing your existing one.