The winners of the 2011 Science in Society Journalism Awards, sponsored by the National Association of Science Writers, are:
In the Book category, Maryn McKenna for her book Superbug: The Fatal Menace of MRSA (Free Press).

In the Science Reporting category, Katy Butler for her New York Times Magazine article, "My Father's Broken Heart"

In the Science Reporting for a Local or Regional Audience category, Barbara Moran for her Boston Globe Magazine article, "Power Politics."

In the Commentary or Opinion category, Charles Homans, for his Columbia Journalism Review article, "Hot Air."
Winners in each category receive a cash prize of $2,500, to be awarded at a reception on October 15, 2011, during the ScienceWriters2011 meeting taking place this year in Flagstaff, Arizona.
NASW established the Science in Society awards to provide recognition — without subsidy from any professional or commercial interest — for investigative or interpretive reporting about the sciences and their impact on society. The awards are intended to encourage critical, probing work that would not receive an award from an interest group. Beginning with the first award in 1972, NASW has highlighted innovative reporting that goes well beyond the research findings and considers the associated ethical problems and social effects. The awards are especially prestigious because they are judged by accomplished peers. NASW currently awards prizes in four categories: Books, Science Reporting, Science Reporting for a Local or Regional Audience, and Commentary or Opinion.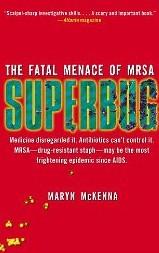 In Superbug, McKenna tells the story of the rise and spread of MRSA, methicillin-resistant Staphylococcus aureus. One of the judges said of the book, "This is really original reporting; it had wide impact, particularly in the medical community and the infectious disease community in a way that popular science writing often doesn't." Another said, ""Her reporting was remarkable in digging up the many trenchant anecdotes and speaking with the many medical personnel on what they did and why they did it."
"My Father's Broken Heart," appeared in The New York Times Magazine on June 20, 2010. Subtitled, "How putting in a pacemaker wrecked my family's life," Butler describes her family's agonizing series of decisions regarding her father's medical care. The judges lauded the quality of the writing, describing it as "spectacular," "evocative," and "extraordinary." One judge said, "It's a memoir with broad societal impact, and that's rare."
"Power Politics" appeared in the The Boston Globe Magazine on May 9, 2010. Moran chronicles the science and politics surrounding the decision to close Vermont Yankee, the state's only nuclear power plant. One judge said, "She has done a marvelous job of taking a national and international story and bringing a very refined local focus to a really pressing scientific topic . . . In midst of talk of nuclear renaissance, here's this thoughtful, fresh assessment of the nuclear power plant issue. [It was] doggedly and thoroughly reported, without showing evidence of lines drawn, sides taken, and old arguments being rehashed."
"Hot Air" appeared in the January/February 2010 issue of the Columbia Journalism Review. In it Homans examines a curious fact: despite describing themselves as meteorologists, a surprising large number of TV weathermen don't believe in the scientific evidence for climate change. One judge said, "It really delved into backgrounds of weathermen and their almost pathological inability to distinguish between weather and climate." Another said, "I felt this piece just dragged the dirty secret of whole climate change debate kicking and screaming out into the public." And this judge went on to note that Homans gave the television weathermen their due. "He treated them respectfully. He let them stand forth in the pages of CJR articulately and with dignity."
The final judging committee consisted of Robert Lee Hotz, science columnist for The Wall Street Journal; Robert Irion, Director of the Science Communication Program at the University of California, Santa Cruz; and Carl Zimmer, a noted freelance science writer. The Science in Society awards committee was chaired by Robert Finn, Assignment Editor for Medscape Medical News, and Dan Ferber, a freelance science journalist. In addition to the final committee, NASW thanks the volunteers who served on preliminary screening committees: Jill Adams (freelance), Siri Carpenter (freelance), Catherine Clabby (American Scientist magazine), Jennie Dusheck (freelance), Dan Ferber (freelance), Ann Finkbeiner (freelance), Robert Finn (Medscape Medical News), Josh Fischman (The Chronicle of Higher Education), Lauren Gravitz (freelance), Emily Laber-Warren, (City University of New York Health & Science Reporting Program), Robin Lloyd (Scientific American), Rosie Mestel (Los Angeles Times), Julie Rehmeyer (freelance), Cheryl Weinstock (freelance), Alexandra Witze (Science News).
**Entries for next year's competition, for material published or broadcast in 2011, are due February 1, 2012. Entry forms will be available at www.nasw.org in December 2011.
The largest organization devoted to the professional interests of science writers, the National Association of Science Writers fosters the dissemination of accurate information regarding science through all media normally devoted to informing the public. Its 2,525 members include science writers and editors, and science-writing educators and students.**