We are pleased to announce the winners of the 2014 Science in Society Journalism Awards, sponsored by the National Association of Science Writers: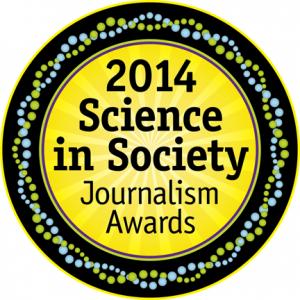 Winners in each category receive a cash prize of $2,500, to be awarded at a reception on October 18, 2014, at the ScienceWriters2014 meeting taking place this year in Columbus, Ohio.
NASW established the Science in Society awards to provide recognition — without subsidy from any professional or commercial interest — for investigative or interpretive reporting about the sciences and their impact on society. The awards are intended to encourage critical, probing work that would not receive an award from an interest group. Beginning with the first award in 1972, NASW has highlighted innovative reporting that goes well beyond the research findings and considers the associated ethical problems and social effects. The awards are especially prestigious because they are judged by accomplished peers.
NASW currently awards prizes in five categories: Books, Science Reporting, Longform Science Reporting, Science Reporting for a Local or Regional Market, and Commentary and Opinion.
In Five Days At Memorial: Life and Death in a Storm-Ravaged Hospital, Sheri Fink details the actions of medical staff stranded, with hundreds of patients, at flooded Memorial Medical Center in New Orleans after 2005's Hurricane Katrina. Doctors, nurses, and volunteers labored for five days in sweltering heat and often in darkness to evacuate the patients they could, while trying to keep others — including patients in intensive care — alive. With limited supplies and too few prospects for rescue, exhausted medical staff faced agonizing ethical choices: Who to evacuate first, and how to handle the fragile patients who might not survive evacuation. Before the crisis ended, almost four dozen patients had died; a subsequent investigation indicated that medical staff had euthanized some of those patients by injecting a lethal dose of painkillers. The judges called the book a "meticulously reported and vividly rendered study of a calamity that one might not think could ever unfold in any modern civilization." They also praised the book's detailed accounts of key characters' thoughts and actions, concluding that Fink "painted people thrown into an impossible situation with empathy, yet without apology." It is this "richly textured context," they said, "that enables a reader to appreciate the devastating social cost of failing to prepare for disasters that it should be possible to prepare for."
"A Race to Save the Orange by Altering Its DNA" was published in the New York Times on July 28, 2013. The article tells the story of a bacterial disease spread by insects that has infected much of Florida's orange crop and is spreading uncontrollably. Traditional methods of fighting plant disease, such as breeding naturally resistant trees, have not succeeded. Genetic modification could save existing trees and create new resistant ones, but growers are wary, as Amy Harmon writes, of "damaging the image of juice long promoted as '100 percent natural.'" The judges praised Harmon's "deeply reported and elegantly written dive into one company's struggle to save the Florida orange crop through genetically modified organisms (GMOs)." The "idiosyncrasies of the case give readers a fresh look" at the conflicts between the science of GMOs and the widespread misconceptions that lead to fears about the technology.
Phil McKenna's "Uprising: The Environmental Scandal That's Happening Right Beneath Your Feet," was published in Matter on November 6, 2013. The story reveals that cities like Boston, New York, Washington, D.C. and others are "peppered with natural gas leaks" that pose significant environmental and public safety hazards. Through the perspective of a former gas industry contractor who walked away from a long career surveying pipeline to blow the whistle on gas utilities' indifference to widespread leaks, the judges noted that McKenna "weaves arresting data and astute observation of human and business motivations into a persuasive and disturbing account of this under-recognized threat." They also noted that McKenna's "crisp and evocative writing brought to life a protagonist whose specialized knowledge and moral compass have led him down an unlikely path."
In "The Tree Coroners," published in High Country News on December 9, 2013, the judges said that "Cally Carswell takes a seemingly simple question — why do trees die? — as her point of departure for a probing, nuanced examination of the subject of climate change as it bodes to affect Earth's forests. Carswell's portraits of four scientists and the trees they study, the trees they love, carry us outward from the Los Alamos mesa to temperate and tropical woodlands around the world, and downward into the intricacies of tree physiology, stress, adaptation, and mortality, as well as the dire consequences that will come with dying forests." The judges commented that "Her keen ear brings those scientists alive through their candid comments, and her measured, astute account of recent work in the field moves beyond the first-order concerns about changing climate and forest loss to a central ecological truth: Things are complicated. It's a high tribute to Carswell's skills and intelligence that, notwithstanding those complications, she makes arboreal life and death not just engrossing but dramatic."
"23andMe Is Terrifying, but Not for the Reasons the FDA Thinks" was published in Scientific American's SA Forum on November 27, 2013. The FDA had just ordered 23andMe to stop selling its genetic testing kit because the company had advertised it as a medical testing device. In his commentary, Charles Seife argues that the true danger lies in testing companies' hold over our genetic data. The judges said that "Seife's analysis went in a different direction from most commentary on the FDA's spanking of 23andMe." He examines the business strategy and long-term goals of 23andMe and finds that the company makes vague promises about privacy while building up a database that would allow it to patent genetic discoveries without scientific oversight. The judges pointed out that these testing kits, "sold directly to consumers for education or entertainment, are hugely popular, and they are the most direct experience many people have of modern science." The judges praised Seife's "clever, amusing language" and "incisive analysis" and "found his point of view compelling and thoughtful."
The final judging committee consisted of Siri Carpenter (freelance and editor, The Open Notebook), Laura Helmuth (science and health editor, Slate) and David Quammen (author and contributing writer, National Geographic). The Science in Society awards committee was co-chaired by Amber Dance, a freelance journalist and staffer at Alzforum.org, and Dennis Meredith, a freelance science writer and communication consultant.
In addition to the final committee, NASW thanks the volunteers who served on the preliminary committees: Jill Adams (freelance), Anil Ananthaswamy (New Scientist), Christie Aschwanden (freelance), Eric Bender (freelance), Bill Cannon (Scientists' Bookshelf), Tim Folger (freelance), Douglas Fox (freelance), Lynne Friedmann (freelance), Lauren Gravitz (freelance), Karyn Hede (freelance), Earle Holland (freelance), Steve Mirsky (Scientific American), Kendall Powell (freelance), Sam Roe (Chicago Tribune), Joel Shurkin (freelance) and Alexandra Witze (Nature).
Entries for next year's competition, for material published or broadcast in 2014, are due February 1, 2015. Entry forms will be available at www.nasw.org in December 2014.
The largest organization devoted to the professional interests of science writers, the National Association of Science Writers fosters the dissemination of accurate information regarding science through all media normally devoted to informing the public. Its 2,525 members include science writers and editors, and science-writing educators and students.
For questions or more information visit www.nasw.org or write director@nasw.org.