Two projects that aim to fill the gaps in professional development opportunities for mid-career science writers and for science writers from Florida and Puerto Rico have been selected by NASW's Grants Committee to receive Peggy Girshman Idea Grants. The $15,000 awarded in the latest funding round adds to more than half a million dollars granted since the program's inception in 2010.
Each year, the Grants Committee reviews applications and selects proposals that support programs designed to help science writers in their professional lives and/or to benefit the field of science writing. The committee reviewed 26 proposals before granting awards to the following two programs:
SciComm STEP: Sparking Transitions for Experienced Professionals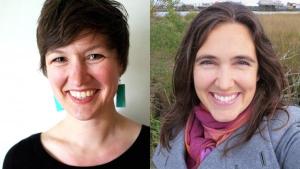 Bethann Garramon Merkle (left) and Virginia Schutte
Bethann Garramon Merkle, director of the University of Wyoming Science Communication, and Virginia Schutte, a science media specialist, storyteller and consultant, will receive $14,000 to develop and present SciComm STEP: Sparking Transitions for Experienced Professionals.
The three month virtual, cohort-based coaching program will help experienced science writers push past barriers to professional development and reach the next level in their careers.
"Mentoring and fellowships can uplift accomplished science writers, but such programs are rare, extremely competitive, and often reinforce privilege," Merkle and Shutte wrote in their proposal. "Thus, most experienced writers, and especially vulnerable and marginalized professionals, struggle to navigate and negotiate growth and shifts above entry-level career stages."
To counter these barriers to growth and help fill the professional development gap for experienced science writers, SciComm Step will provide access to intensive professional development in which participants build and practice a series of self-generated action plans to apply career advancement tools toward their goals.
"We were developing this proposal when NASW launched the Mid-Career Mentoring Program," they wrote. "We couldn't believe the serendipity! These two programs together would create unprecedented career support for science writers."
Florida and Puerto Rico Science Communication Group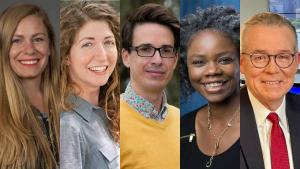 From left: Rebecca Burton, Natalie van Hoose, Jerald Pinson, Czerne Reid, John Morales
A group of science communicators in Florida will receive $1,000 to help establish the Florida and Puerto Rico Science Communication Group. The funds will support the launching of a website and Slack channel, a curated mailing list, one professional development workshop and quarterly community networking events, which may include virtual and in-person socials, conversations with book authors, in-person facility tours, a science book club.
The new group aims to establish a network in Florida and Puerto Rico to help connect science reporters, press officers, freelancers and other science communicators and to help build capacity for Florida science communicators to cover the effects of climate change, biodiversity loss, water management problems, population growth, overdevelopment, environmental injustice, and misinformation.
"Florida faces an interesting mix of environmental, infrastructural and reporting challenges that, in many ways, is a harbinger of issues yet to arrive in other states," the recipients stated in their proposal. "We propose the formation of a group to bring together communicators working at the forefront of conservation, scientific innovation and climate change, with a focus on amplifying trusted reporting, highlighting a diversity of voices and combating misinformation."
The group includes Jerald Pinson, science writer for the Florida Museum of Natural History; Natalie van Hoose, a freelance writer, editor and teacher; Rebecca Burton, a communications manager for the University of Florida Thompson Earth Systems Institute; Czerne Reid, a freelance science writer and lecturer in the University of Florida College of Medicine and affiliate faculty in the UF College of Journalism and Communications; and John Morales, a meteorologist and editorial fellow with the Bulletin of the Atomic Scientists.
NASW's Idea Grant program is named in honor of the late Peggy Girshman, who passed away in 2016. Girshman, a founding member of the Grants Committee, was a longtime mentor and advocate for science writers. Her distinguished career included positions at several media organizations, including NPR, several broadcast organizations, and Kaiser Health News, which she helped co-found.
Since 2010, NASW has funded projects totaling more than $545,000 to benefit science writers and communicators. Applications for grants, which generally range from $1,000 to $15,000, typically open in the fall of each year. The 2022 Grants Committee members are: Sheila Burt (chair), Kimbra Cutlip, Daniel Serrano, Knvul Sheikh, Cassandra Willyard, and Ling Xin. For more information, visit nasw.org/awards/ideagrants.
NASW Grants Committee member Kimbra Cutlip contributed to this announcement.
Founded in 1934 with a mission to fight for the free flow of science news, NASW is an organization of ~ 2,500 professional journalists, authors, editors, producers, public information officers, students and people who write and produce material intended to inform the public about science, health, engineering, and technology. To learn more, visit www.nasw.org.
Hero image: A dazzling sunset with lights and clouds shining over a wide grassy wetland in the Everglades. Credit: G. Gardner/National Park Service