By Sarah Frazier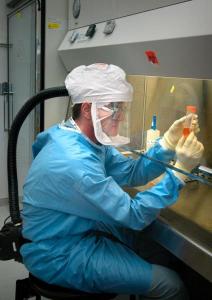 CHICAGO — Search-and-rescue comes first when an earthquake strikes — then comes analysis. But that doesn't work for disease outbreaks.
To save lives, scientific research and public health efforts must be simultaneous in pandemic response plans, experts say. But that ideal model is stymied by lack of funding, regulatory hurdles and unavailability of experts on short notice, said infectious disease and health policy experts during a February 14 symposium at the American Association for the Advancement of Science meeting in Chicago.
Public health and scientific policy experts from the U.S. Department of Health and Human Services, the French National Institute of Health and Medical Research and Australia's National Health and Medical Research Council described their work as part of the Global Research Collaboration for Infectious Disease Preparedness (GloPID-R) Network to speed real-time, research-based response to disease outbreaks.
"Public health decision-makers need scientific evidence to make their decisions," said Line Matthiessen, head of the Fighting Infectious Diseases and Global Epidemics Unit at the European Commission.
The consortium aims not just to provide research-based response within 48 hours of an outbreak, but also to improve understanding of the disease over the long term. Failure to collect scientific data and samples during health crises can later result in harmful gaps in knowledge. "Each disaster or crisis is not just a crisis to manage in the moment, but is also a good opportunity to advance scientific knowledge," said Nicole Lurie, Assistant Secretary for Preparedness and Response at the U.S. Department of Health and Human Services.
Lack of funding was the most commonly cited cause for delays of scientific response during pandemics. Funding typically begins after an infection has emerged and ends before the next outbreak, said Bernadette Murgue, Deputy Director of the Microbiology and Infectious Diseases Institute at the French National Institute of Health and Medical Research, or INSERM. That means research funds become available when infection rates are lowest and not when the money is most urgently needed.
A new preparedness initiative at INSERM seeks to combat this and other issues by identifying potential sources of funding for scientific work, establishing research networks, smoothing regulatory issues, and outlining, ahead of time, key research questions in likely infection-spread scenarios. Infrastructure for real-time research during pandemic responses already exists in the U.S. in the form of 138 clinical networks around the country that are equipped for collaborative research and ready to get to work.
The issue is removing barriers.
Delays by human subject review boards slowed large-scale analysis of the 2009 H1N1 flu pandemic, for example. Eighteen months after the pandemic, when research was finally possible, the revelation came that 40 percent of hospitalized children who died in the pandemic had fallen victim to the drug-resistant bacteria MRSA, not the flu virus.
"[H1N1] highlighted the challenges of doing scientific research in the face of a pandemic," Lurie said. A recently formed National Institutional Review Board aims to eliminate unnecessary, even deadly delays in the future.
With a few additional steps, like creating rosters of potential experts and making sure scientific research is part of the core pandemic response plan, the U.S. pandemic research system can be fully operational, Lurie said.
"The expertise is there," he said.
All that's left is to fill in the gaps.
Sarah Frazier is a junior physics major at Rice University and a science writing intern at IEEE Earthzine. Her work has also appeared on mentalfloss.com and in the Rice University student newspaper, The Rice Thresher. Follow her on Twitter @sarahfrazier7 and view her portfolio at sarah-frazier.tumblr.com.