NASW depends on the power of volunteers for most of our programs and activities, and we have over 200 active volunteers annually. Each year, we recognize one of these volunteers whose contributions help make NASW the vibrant organization that it is.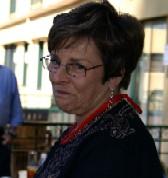 Diane McGurgan
On October 18, 2014, during the annual Awards Night at ScienceWriters2014, Robin Henig announced this year's winner. The award is usually presented during the NASW Membership Business Meeting, but this year's recipients made the evening event especially fitting. Amber Dance and Dennis Meredith, co-chairs of the Science in Society Journalism Awards committee are this year's Diane McGurgan Service Award recipients.
In early 2012, NASW members Amber Dance and Dennis Meredith took over the reins as co-chairs of the Science in Society Journalism Awards. Each year the contest, which is free for any writer to enter, gets hundreds of entries, and the judging is handled solely by volunteers. Since day one, Amber and Dennis have worked as a professional, enthusiastic team. Recruiting scores of volunteers to screen and judge entries and guiding their work with strong organizational skills backed by a judicious use of humor, they have overseen the transition from paper to online entries, a huge leap forward in administration. And they are always on the lookout for ways to improve the experience for entrants and judges. With their close attention to entries and the nature of the contest, they added a new category in 2012 for Longform Science Reporting. The category was instantly popular, and their insight helped solved the problem of series competing with single articles. Amber and Dennis's attention to detail and ownership of the process is essential to the running of one of NASW's flagship programs. Dennis Meredith is a longtime NASW member, and an author in North Carolina. Amber Dance is a freelance writer based in California, and a previous winner of the Evert Clark/Seth Payne Award for Young Science Writers.
This service award was established in 2001. NASW member Louis Lerner, who passed away in 2006, wished to show appreciation for then-Executive Director Diane McGurgan and other members whose efforts on behalf of NASW go beyond the call of duty. After sending an unsolicited check for $2,500 to NASW, he left it up to the organization to decide how best administer the money. At Diane's suggestion, it founded an annual service award with a cash prize of $500. After the initial funds were disbursed (2002-2006), the NASW board voted to continue the awards at the same $500 annual level.
Past winners of the Diane McGurgan Service Award
2013: Michael Newman
2012: Rick Bogren, Robert Irion, and Mari Jensen
2011: Jeanne Erdmann
2010: Jenny Cutraro
2009: Jeff Grabmeier
2008: Richard Robinson
2007: Dan Ferber
2006: Ruth Winter
2005: Nancy Shute and Corinna Wu
2004: Mariette DiChristina and Kelli Whitlock
2003: Beryl Benderly
2002: Diane McGurgan