By Sarah E. Olson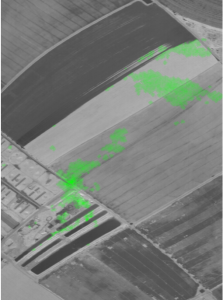 Methane plumes from feedlots in south Bakersfield, CA, taken by HyTES in 2015. Credit: NASA Jet Propulsion Laboratory.
AUSTIN, Texas — Measurements of the greenhouse gas methane near high-emission industrial sites in California have influenced regulatory changes and may outline a path for other states to follow, experts say. The data collected highlights the need to better monitor industries that in the long term contribute significantly to the Golden State's output of methane, and in the short term pose a more immediate threat to communities near production plants.
Dairy farms and oil wells were among the major culprits.
The findings have led to a "tremendous uptick in interest on regulating these sources," said Timothy O'Connor of the nonprofit advocacy Environmental Defense Fund during a Feb. 16 panel at the American Association for the Advancement of Science (AAAS) annual meeting. "The state has really taken upon itself a new method of regulation."
The problem is with the infrastructure in these methane-producing industries, said University of California, Riverside climate scientist Francesca Hopkins. On dairy farms, for example, where cattle manure is stored in anaerobic digesters that generate methane to be used for energy, leakage is practically inevitable in the absence of proper monitoring and maintenance.
Last year Hopkins' team witnessed a brilliant green plume of gas escaping from a manure digester in California's San Joaquin Valley, using a high-tech methane-sensing device called Hyperspectral Thermal Emission Spectrometer, or HyTES. Developed by NASA's Jet Propulsion Laboratory (JPL), HyTES uses two imaging spectrometers to detect a range of thermal infrared wavelengths, helping to pinpoint the exact source of emissions. The benefits of the technology go beyond long-term climate change mitigation efforts. The team helped prevent a possible catastrophe when they discovered a gas leak in a residential area during one of their routine surveys. They reported the leak so it could be repaired.
Sometimes leaks aren't so easily found or fixed. Often, residents living near high-emission facilities report leaks after experiencing odd smells, nausea, frequent headaches or other symptoms.
"We see a tremendous amount of risk from continued persistent emissions," O'Connor said. In what experts call one of the worst environmental disasters in California history, the massive Aliso Canyon gas leak near Los Angeles in 2015 spewed methane for months before it was repaired. Events like that underscore how critical consistent measurements can be in helping to address infrastructure problems that could harm nearby communities, said JPL engineer Riley Duren. The leak led researchers to redouble their efforts to monitor methane emissions and prevent similar disasters in the future.
The aim is safer, healthier environments for communities adjacent to historically high-emission facilities, such as oil wells in Los Angeles or dairy farms in the valley. In addition, industries that reduce their methane emissions benefit from reduced costs and optimized efficiency.
The next step in the team's methane mitigation efforts is a pilot project called SUMMATION, which will field test new low-cost methane sensors in the agriculture sector of the Southern San Joaquin Valley.
Sarah Olson is a student at MiraCosta College majoring in English with a minor in earth sciences. She was featured in the New York Academy of Sciences Magazine and has blogged for her school's STEM Learning Center. Follow her on twitter @se_olson and read her blog, The Literature of Science.