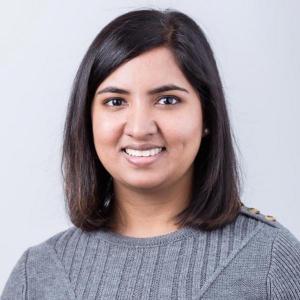 Shraddha Chakradhar (Credit: Ryuji Suzuki at beaupix.com)
NASW's programs, awards and activities wouldn't happen without more than 200 members who step up annually as volunteers. Each year, NASW recognizes a volunteer or volunteers who went beyond the call of duty with its Diane McGurgan Service Award. Shraddha Chakradhar and Ashley Smart are the 2019 recipients.
NASW President Siri Carpenter announced the award at NASW's Annual Business Meeting, which was held Oct. 26 during the ScienceWriters2019 meeting in State College, Pa. Carpenter praised Chakradhar and Smart for the energy and creativity they dedicated to a wide range of projects in service of the science writing community.
As co-chairs of the Diversity Committee from 2016-2019, Chakradhar and Smart have worked tirelessly to help NASW meet its goals of diversity, inclusion and equity. Under their leadership, The Diversity Committee launched and expanded the NASW Diversity Fellowship, which provides financial support for minority science writers doing summer internships. The committee also worked to make the Diversity Mixer a permanent fixture at the ScienceWriters annual meeting, teamed up with The Open Notebook to launch the 'Diverse Voices' series, and expanded the committee's Culture Dish (@CultureDish) Twitter account.
Carpenter shared comments from several people who have worked with Chakradhar and Smart. Apoorva Mandavilli and Nidhi Subbaraman, founding co-chairs of the committee, described them as "tireless and capable leaders who rallied and inspired the members, expanded the committee's scope and power by launching a slew of new projects, and made the committee's work an essential part of NASW."
Ashley Smart
Phil Yam, a longtime member of the committee, commented: "Shraddha and Ashley embody the essence of strong leadership. They not only expanded the committee's public-facing efforts, such as the "Diverse Voices" series with The Open Notebook. They also did significant behind-the-scenes work to grow the committee to more than two dozen members and kept members informed and engaged."
The McGurgan Award honors NASW's longtime former executive director, Diane McGurgan. NASW member Louis Lerner, who passed away in 2006, established the award in 2001 to show appreciation for then-Executive Director McGurgan and other members' efforts. His $2,500 donation founded an annual service award with a cash prize of $500. After the initial funds were disbursed (2002-2006), the NASW board voted to continue the awards at the same $500 annual level.
Learn more about the award and past recipients.