By Claire Bugos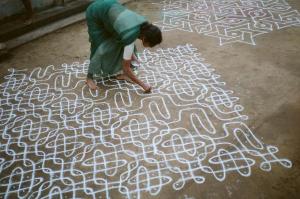 A woman draws with rice flour outside her home in a village near Thanjavur, Tamil Nadu, India. Tradition compels Hindus to "feed a thousand souls" to atone for the sin of displacing animals and insects to build their homes. The practice is one of many ways communities of faith around the world attempt to live more harmoniously with their environment. Photo credit: Vijaya Nagarajan
SEATTLE — In a sixth century B.C. Hindu fable, the god of death instructs a boy to live his life without material desires. People familiar with this story might hear a parable that instructs them to be more grounded and frugal. But for Vijaya Nagarajan, chair of theology and religious studies at the University of San Francisco, it means acting more like Swedish teenage climate activist Greta Thunberg, who encourages people to reduce their carbon footprint.
"The problem of climate is the problem of waste, Nagarajan said. "Simply put, if each of us in all of our different traditions can come up with a proclamation on waste, how does each of our religious traditions imagine waste? How do we reimagine waste? How do we embed ecological constructs that are already within our text and practices and lift them up?"
Nagarajan and other experts spoke about various approaches faith-based communities are taking to address climate change and protect natural resources during a Feb. 14 talk at the American Association for the Advancement of Science annual meeting.
These approaches often mean upgrading historical structures and systems. For instance, in 2016, England's 1,300-year-old Gloucester Cathedral was outfitted with solar panels in an effort to decrease its carbon emissions and help mitigate the effects of planet-warming greenhouse gases.
Many religious leaders who tackle modern environmental issues say that's wholly compatible with the teachings of their faith.
"Sustainability or zero emissions programs are consistent with denominational policy," said Susan Bratton, a religious and environmental ethicist at Baylor University. "They make people feel better about their futures and who they are in the religious context. They're not conflicted enterprises."
With this in mind, scholars like Nagarajan are attempting to re-examine religious doctrine in terms of modern environmental crises.
She compares the effects of contemporary globalization to the rapid urbanization that occurred among Indian village societies in the sixth and seventh centuries B.C.
"A billion Hindus in the last 30 years have jumped into the modern industrial civilization, and the current generation has forgotten all this stuff," Nagarajan said. "Part of my work is kind of reinterpreting these past documents."
Some religious leaders, however, are slow to address the effects of climate change, even when it concerns their communities, said Bratton, who studies how Christian communities have approached ecology and environmental ethics throughout history.
In a 2014 survey by the Public Religion Research Institute, nearly half of respondents in the U.S. reported seeing the signs of end times in dire natural events. Yet just over a third reported regularly receiving sermons or education about environmentalism in their home congregations.
In some communities, though, sustainable practices are vital not only for advancement, but also for cultural survival. For the Swinomish Indian Tribal Community, for example, maintaining reservation land is necessary to protect customs and ancestors, said tribe environmental director Todd Mitchell.
"We need to honor them by doing the best we can in utilizing the resources and protecting them," Mitchell said.
Through adaptation projects, community members work to restore land, reintroduce disappearing native species, and rebuild fragile ecosystems. To ensure the land will continue to be a place of physical and spiritual abundance, Mitchell works to educate and empower younger generations to take up the mantle when he's gone.
The ability to mobilize communities is perhaps the greatest asset religious groups have in the fight against the negative impacts of climate change, the experts said.
"While outreach from scientists and scientific communities is essential to equip scientists for the effects of climate change, local communities and religious leaders [are] an underappreciated resource in the creation of climate resilient communities," said Curtis Baxter, senior program associate at AAAS's Dialogue of Science Ethics and Religion, which connects scientific and religious groups.
These communities work toward a sustainable future by creating links between historic religions and modern science — whether it's by installing solar panels on the naves of medieval churches or reimagining ancient Hindu tales around modern youth climate activists.
Claire Bugos is a senior at Northwestern University majoring in journalism and history. She is the print managing editor at North by Northwestern Magazine and a former print intern at Smithsonian Magazine. She conducted an archival research project on California's Kings Canyon National Park and works as a political science research assistant. Follow her on Twitter @clairebugos or email her at clairelbugos@gmail.com.