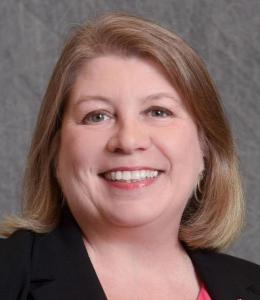 Jennifer Cox
Congratulations to the winner of the 2017 Diane McGurgan Service Award, NASW volunteer Jennifer Cox. The winner was announced by president Laura Helmuth on October 28 at the NASW membership meeting, held during the World Conference of Science Journalists 2017.
When NASW was awarded the bid to host the world conference, Cox's first words were, "What can I do to help?" She has been a critical part of the conference, chairing the Communications Committee and supporting fellows, attendees, and other volunteers with enthusiasm and leadership. She is the reason so many people knew about the conference and were able to follow it through newsletters and social media. Her Communications Committee led WCSJ's international outreach and media relations and came up with a sleek, clear, welcoming series of messages that were shared across many platforms. Cox also started a challenge to have regional science writing organizations donate to the Perlman Travel Fellowship Fund and led the Science Communicators of North Carolina to donate as a group.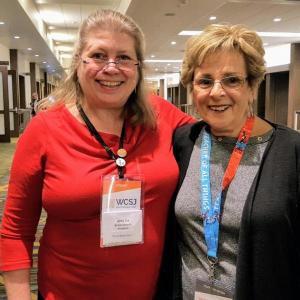 Jennifer Cox, Diane McGurgan
Her contributions to NASW started long before the WCSJ conference. Cox was an integral part of the team organizing ScienceWriters2012 in Raleigh, and she served on our NASW annual meeting program committee for several years. She is a voice of reason and community building on the NASW email listservs and has been generous with her time and attention to the organization and its members. Congratulations, Jenny, and thank you for all you do.
Congratulations, Jenny, and thank you for all you do!
Now in its seventeenth year, the Diane McGurgan Service Award has been given annually since 2001. It was created after member Louis Lerner sent an unsolicited check for $2,500 to NASW as a token of appreciation to then-Executive Director Diane McGurgan and others whose efforts on behalf of NASW go above and beyond the call of duty. At McGurgan's suggestion, an annual service award was created. After initial funds were disbursed, the NASW board voted to continue the awards at the same $500 annual level, and awards are presented at the annual meeting each fall. If you would like to suggest a volunteer for the Diane McGurgan award, please send a short letter of nomination to director@nasw.org prior to August 15.