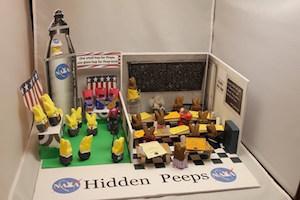 The Golden Peep Award went to "Hidden Peeps" by the Theoharis family.
Siri Carpenter, NASW president and editor-in-chief of The Open Notebook (TON), is all out of Peeps puns. She's had a peep at the 50 entries in TON's science-themed Peeps diorama contest. Some of the entries were real masterpeeps.
While models featuring marshmallow treats may seem like a departure from TON's mission of helping science, environmental and health journalists sharpen their skills, the contest was designed to boost the public's understanding and appreciation of science. The competition broke TON social media engagement records, with referrals from Vox, Food & Wine, and NASA's Earth Matters, among other outlets.
The winners, announced April 17, were selected by a panel of six judges based on their creativity, scientific relevance, and use of Peeps. The top entries are:
Golden Peep Award: "Hidden Peeps," an artistic rendering of the Black women who made essential contributions to the U.S. scientific space program at NASA. Created by the Theoharis family, led by 14-year-old Ella.

Silver Peep Award (Adults): "Peeph.D. Thesis Project," a representation of the creator's Ph.D. thesis project on creating viral vaccines to target emerging pathogens. Created by Stephanie Anguiano-Zarate.

Silver Peep Award (Teens): "Peepiodic Table of the Elements," celebrating the 150th birthday of the periodic table. Created by 74 high school chemistry students led by Sally Mitchell, a chemistry teacher at Rye High School in Rye, New York.

Silver Peep Award (Kids): "Pure Wild Peep," featuring Jane Goodall in the forest to research chimpanzees. Created by 6th grader Lucy Higgenbotham.
A story featuring these and other winners, including the Peeple's Choice Award, Most Accurate Representation of Science, Best Use of Peeps, Best Science History, and numerous honorable mentions, is on the TON website.
TON's science-themed contest was the brainchild of Joanna Church, Helen Fields, and Kate Ramsayer, an award-winning trio of peep diorama makers from the Washington D.C. area. By challenging contestants to use Peeps to explain scientific discoveries and processes, the competition gave people a rare chance to express their passion for science in a creative way.
"We didn't give a lot of directions, which gave people an opportunity to let their imaginations roam free," Carpenter said. "It has been incredibly gratifying to see the results."
Among the entries were several that touched on the darker side of science and scientific advances. One, titled "Never Give Up," depicted the human and environmental toll of a 1903 rockslide in the mining town of Frank in Alberta, Canada.
"You might think that making a diorama out of marshmallow treats about a tragedy like this would be inappropriate, but it wasn't—it drew you into a story that you may not have known about otherwise."
With such a great response to this year's competition, Carpenter said TON is planning another contest for next year. We'll peep you posted!