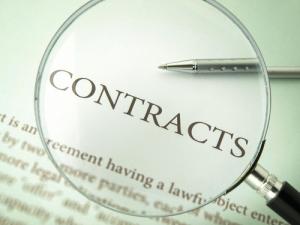 We are pleased to offer members a new benefit that we hope will help writers navigate the labyrinthine world of contracts. The Fine Print is a database of legal contracts donated by members for members — to read, compare and cite. Members can search the database by type of work, by medium, and by client category. They can also search for specific clauses dealing with copyright, warranties, deliverables, indemnity clauses, payment terms and other provisions. Check it out here. You will need to be logged in as a current NASW member to see that page.
The name "The Fine Print" was submitted to the database naming contest by writer Beth Geiger. The Freelance Committee chose it from nearly 100 entries. For her creativity, Beth wins a free year of membership. Thank you, Beth!
Some NASW members may regret the information we redacted from the contracts. But we are striving to protect the anonymity of donors. To do that, we left out names and addresses, titles of articles, specific due dates, and fees. After consulting with outside counsel, we also decided to leave out the names of publishers and other clients. This is something we hope to revisit, however. A few publishers have indicated they are proud of their contracts and we hope that perhaps next year we can supply blank contracts from a group of publishers willing to be identified. Even without names, you can learn a lot by looking at what goes into different kinds of contracts. Consider The Fine Print a beta version. We hope to improve and expand it in the future.
We also included a short glossary that's been vetted by outside counsel.
We appreciate how patient everyone has been with such a long process. And also how generous writers have been about donating contracts. Keep them coming! After you've sifted through the contracts, please consider how your donation of a contract may benefit your fellow freelancers. Send contracts to Jennie Dusheck or T. Delene Beeland.
Those who have worked on the database include Jennie Dusheck, T. DeLene Beeland, Jill Adams, Ricki Lewis, Jennifer Wettlauer, and Russell Clemings. Thanks to NASW for supporting this project.