By Sarah Swiersz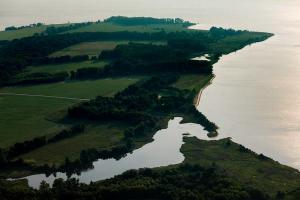 In Maryland, the National Wildlife Federation built a living shoreline designed to withstand sea level rise due to climate change. Photo credit: Chesapeake Bay Program
SEATTLE — Fire, flood, and famine are just a few of the disastrous outcomes many scientists anticipate from climate change. To face this challenge and collaboratively create a better future, many are turning to sustainability science.
The field focuses on finding effective ways at both the local and international scales to protect the environment, while helping people and their communities thrive. It uses approaches as diverse as connecting shellfish growers with scientists to confront ocean acidification, and helping large businesses invest in environmentally friendly projects as a way to compensate for their greenhouse gas emissions.
"[It's] integrative, inclusive; a science that works for and with societies to solve tough sustainability problems," said Josh Tewksbury of Future Earth U.S. Global Hub, a consortium between University of Colorado Boulder, Colorado State University and George Mason University. He and other sustainability science experts discussed the nature of the field Feb. 16 at the American Association for the Advancement of Science annual meeting.
Collaboration is a key feature of sustainability science, involving government, industry, universities, non-profit organizations and local communities. Practitioners use data from scientific research in addition to, and in context with, other forms of information such as local, place-based knowledge developed within indigenous societies.
"Silos have to go," said Lisa Graumlich, dean of the University of Washington College of the Environment and an advisor to its EarthLab sustainability initiative. "We go out into the community to try to understand what are the biggest challenges facing communities, local governments, tribal nations, natural resource management agencies — and listen very, very closely."
In other words, EarthLab flips the script, letting people other than researchers ask the questions, so that the answers will be relevant to local communities and broader society.
"By sitting at a table with community members and sharing understanding … we actually start to ask better questions and develop more relevant science," Graumlich said.
One example of collaboration among scientists and private industry that incorporates information about local ecology is the creation of functional carbon offsets—reductions an individual or company makes in carbon dioxide or other greenhouse gas emissions to compensate for emissions elsewhere. People and companies can also buy carbon offsets, counterbalancing their emissions by paying to support efforts that reduce emissions in other parts of the world.
"We have to have a price on carbon," said Sally Jewell, interim CEO of The Nature Conservancy and former U.S. Secretary of the Interior.
To be meaningful, that price has to account for not just jobs created by burning carbon, but also the entire value of the resource and its cost to the environment and to society.
For big companies such as Amazon and Microsoft who are seeking to purchase offsets for their carbon footprints, sustainability science and scientists can serve as guides toward ecologically-sound investments.
Connecting the physical and social sciences with the arts and humanities is also critical in these considerations, said Pamela Matson, a senior fellow at Stanford Woods Institute for the Environment.
Humans live in complex systems with webs of social and ecological relationships among people, institutions, cultures and societies, and the answers to sustainability problems draw on those interconnections.
"When we start thinking about solutions, it's not just the new technology," Matson said. "It's how people think about it, use it, accept it, and appreciate it and how it affects their own lives."
That means finding ways to tackle global issues in local contexts, and engaging communities as well as governments.
"It will happen through information sharing and transparency, focusing on policies that not only work, but also align economic and environmental interests," Jewell said. "It's not going to happen through random acts of kindness."
Sarah Swiersz is a senior at the University of Central Florida, majoring in interdisciplinary studies with concentrations in computational and physical sciences, minors in geoscience and environmental studies, and a certificate in service learning. You can reach her by email at sswiersz@Knights.ucf.edu or on Twitter @sarah_swiersz.