By Lelia Graham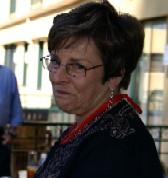 As had been announced, Diane McGurgan leaves NASW in June, after 30 years of dedicated service. At a luncheon at the ScienceWriters 2008 meeting, a couple hundred attendees gathered to honor her. The sunny patio of the Crowne Plaza hotel, in Palo Alto, was filled with longtime friends and new members, alike in their appreciation of Diane's monumental contributions to our organization. Inside the hotel, friends viewed a slideshow and wrote fond wishes in an overflowing scrapbook.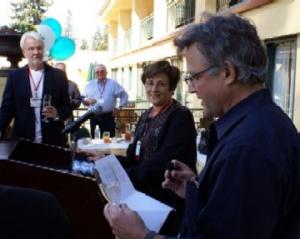 Former NASW President Joe Palca emceed a humorous and touching roast of "The Voice." Colleagues remarked on Diane's devotion to young members, her honest advice, and her ability to juggle all that was thrown her way. Tom Siegfried gave Diane heartfelt thanks for imploring the National Association of Social Workers to change their acronym. CASW President Cris Russell told of a six-year phone relationship, ending in her surprise that The Voice was considerably smaller in person.
Dennis Meredith led the crowd with some Diane-like (expletive deleted) cheers.
Diane was presented with "mahvelous" gifts, both in jest and in gratitude. For her golden years: "NASW's Best" golf balls (which she doesn't want to lose in the West Virginia rough) and a camouflaged Jazzercise outfit (perhaps for retrieving stray shots). Vice President Mariette DiChristina, joined by Lee Hotz, presented Diane with an elegant silver tray, engraved:
To Diane McGurgan with Gratitude for 30 Years as a Mainstay of Science Journalism
A champagne toast, plenty of cake, and a standing ovation concluded the heartfelt tribute.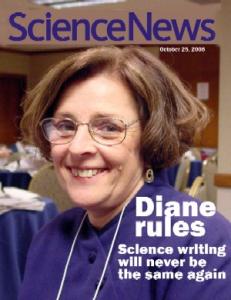 Thus, after three decades with NASW, Diane will no longer have to put up with stupid requests, hound us to pay dues, or field calls about social work. We wish her a long and happy retirement. She will, of course, continue as CASW Administrative Secretary.
Lelia Graham attended ScienceWriters 2008 as an NASW Graduate Fellow. In May, she will complete her Master of Science in Technical and Scientific Communication at James Madison University in Virginia.
(NASW members can read the rest of the newly redesigned Winter 2008-09 ScienceWriters by logging into the members area.)