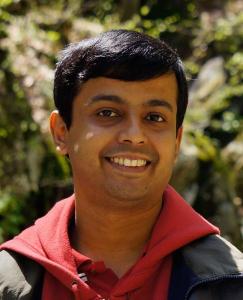 Sandeep Ravindran
Sandeep Ravindran was elected as an NASW board member-at-large in 2018. He assumed the role of secretary in June 2019, following the resignation of Nsikan Akpan in May. Get to know Sandeep in this Q&A.
Tell us about your background and career.
I'm a freelance science writer based in the Washington, DC area. Before becoming a science writer, I spent many years studying how the parasite Toxoplasma gondii invades human cells, and received a Ph.D. in microbiology and immunology from Stanford. After my Ph.D. I decided to take the plunge into science writing, and studied science communication at UC Santa Cruz. I worked as a science writer at the Proceedings of the National Academy of Sciences for two years before becoming a freelancer. I've been freelancing for the past 6 years, covering life sciences and technology for outlets such as The Scientist, Nature, Wired, Smithsonian, The Verge and National Geographic.
What are you working on at the moment?
I just finished a Nature technology feature on how ecologists are using environmental DNA—DNA shed by organisms into the environment—to monitor biodiversity. I'm also working on a Q&A with an evolutionary biologist, and I'm starting to work on another feature on gene editing.
You've been on the NASW board since 2018. What compelled you to volunteer?
NASW was instrumental in helping me transition from science into a career in science writing. I learned a lot from attending meetings, subscribing to NASW mailing lists, and interacting with members. I wanted to give back to the organization by getting more involved in NASW, and joined the freelance committee a few years ago. I've been helping to organize the Power Pitch and Pitch Fest events at the annual meetings since 2015, in addition to doing other volunteer work, and I decided to stand for election to the Board because I felt like I had more to contribute to the organization. As someone who's worn multiple hats—as a journalist, PIO, and freelancer—I felt like I could identify with a broad a swath of our membership. I also felt that as an immigrant and person of color, I could bring my own unique viewpoint to the organization and its board.
What kinds of initiatives/programs are you interested in developing or supporting as a board member and now as secretary?
I'm interested in increasing engagement between NASW and its members, and in finding ways to develop and support more opportunities for professional development, networking, and mentorship, particularly for those new to the field and from underrepresented groups. I'm keen on promoting a greater diversity of voices within NASW, and am working with the diversity committee on ways to make the organization more diverse and inclusive. I'm also a member of the finance and freelance committees, and will continue to organize the pitching event at the annual meeting and support similar programs and events.
What do you like to do when you're not working?
Most of my free time these days is spent taking care of my 2-year-old daughter, but I also try to play tennis regularly and I love to cook (thankfully my daughter enjoys my cooking, so that works out well).
Follow Sandeep on Twitter @sandeeprtweets
Image by Hakim Ouake from Pixabay