By Karen Blum
Managing social media in a small or solo business can be challenging but there are strategies and tips to make things easier, according to panelists in "How to increase your social media reach when you're a one-person shop."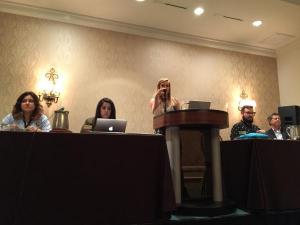 Left to right: Maria Belen Farias, Saba Sedighi, moderator Rebecca Burton, Brandon Echter, Bob Hughes
One need only look at "Chewbacca Mom," a video of a Dallas housewife wearing a mask and laughing, to note the power of social media, said Bob Hughes, manager of product marketing for Georgia Power and an adjunct professor at the University of Florida. The YouTube video garnered some 160 million hits, he said, and enabled her to build a brand.
"You're all a brand," Hughes said. "Everything you do, everything you say, everything you post [on social media] adds to or detracts from the brand that you are." Through social media, any individual or company has the same reach and 24/7 access as a large conglomerate, he said.
Registering your name as a URL is a good start to branding, he said; blogs also are helpful to showcase your writing skills. When networking, as you meet people, follow them on social media, tweet to them, share their work and they will share yours. That will increase your visibility, he said. Facebook is still the leading social network, with an estimated 1.3 billion users, while Twitter has slowed. WhatsApp, WeChat and Instagram are growing in popularity.
Snapchat is another helpful media tool for storytelling, a way of sharing your message to engage your audience and drive them toward actions like making a purchase or downloading content, said Saba Sedighi, a social strategist with Hired. The Snapchat app, which has 100 million daily active users, allows you to share photos or videos lasting up to 10 seconds; the content is visible for 24 hours, creating a sense of urgency for people to watch, she said. Science communicators could use this as a way of showing behind-the-scenes work.
Brandon Echter, engagement manager for Science Friday, said his office revised its social media strategy because of three problems: They did not have enough content to post frequently; they had a disparate audience spread around the world in different time zones; and he was the only employee working on social media.
Echter turned to archival material, such as posting information from older shows, as well as third party content. He also made a list of science journalists and others they follow on Twitter to find sources of interesting stories to share. Other helpful sources he has found for science news include the AP Planner app, which tells of upcoming events; and the Wikipedia article of the day, which lists things that happened on a particular date. To repurpose old content into new content, Echter said he likes Lunchbox, a free tool developed by NPR to make quotable images, and Audiogram, a free tool from WNYC radio that turns a short piece of audio into a short video.
He also made use of scheduling tools on social media, planning Facebook posts to release shortly before their peak audiences in different time zones and scheduling Twitter announcements every hour. To keep organized, he makes use of the Todoist app, a messaging program called Slack (free for nonprofits) and Trello, a free program that helps break down projects. He also encouraged other staff, like producers and editors, to share their own science stories on social media, which are re-tweeted or re-posted by the show.
Just because you get likes, shares or page views does not mean you are creating loyal customers or gaining purchases, said Maria Belen Farias, a digital ranger for the National Park Service. Those "vanity metrics" are not important if they don't fit with your goals, Farias said. Determine your social media goals and then use metrics to analyze social media usage, she advised. It's also OK to drop a social media platform if it's not working for you.
For more information:
The Smart Marketer's Guide to Choosing a Social Media Niche