Want to help with the NASW Science in Society Awards? Here's your chance!
NASW would like to invite members to volunteer as a category judge for the 2017 NASW Science in Society Awards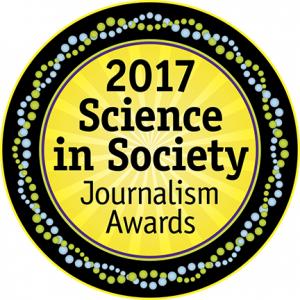 As one of the 15 category judges, you'll work in teams of three to winnow down the qualifying entries in one of the categories and nominate three finalists to be presented to the final judges. Categories are Books, Opinion, Science Reporting, Science Reporting for a Local or Regional Market, and Longform Science Reporting. Volunteers should be available for reading, judging, and discussions with other committee members beginning in May and ending in June.
Judging will be done using a convenient online system, with the exception of Books, which will include a mix of electronic and hard copies. Judges agree to keep the process and discussions confidential.
All members are welcome to volunteer. The category judge volunteers should not be themselves entered in the contest. However, they may be employees of, or freelancers for, media outlet that submit entries — with the understanding that they would recuse themselves from judging entries from that outlet. They may also recuse themselves from judging any entry for which they perceive a conflict of interest. Reasons for recusal might include being a relative or partner of an entrant.
To volunteer, send an email indicating which categories you'd like to be considered for, along with a brief (one-page) CV, to Executive Director Tinsley Davis (director@nasw.org) by March 15. Award committee co-chairs will be responsible for selecting well-rounded judging teams from among those volunteering and will be in touch the week of April 3.
Sincerely,
Alla Katsnelson
Amber Dance
Awards Committee co-chairs