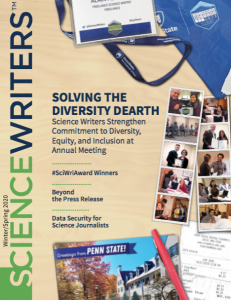 We're thrilled to bring you the latest edition of ScienceWriters magazine. A PDF version is accessible to members and an interactive online version is coming this spring. Print subscribers should look for the magazine in their mailboxes starting this week.
This issue reflects on our recent ScienceWriters conference in State College and its volunteer-driven focus on increasing diversity, equity and inclusion in our field. Coverage by our travel fellows offers a collection of insight and resources, including tips on data security, from the NASW craft sessions that we hope is useful to attendees and non-attendees alike. Also in this issue, volunteers Michael Balter and Suzanne Clancy helped gather and share news from our members and regional groups, and longtime #SciWriBooks editor Lynne Lamberg keeps us informed about the latest books by NASW members. Thanks also go to Amy Nordrum, chair of the Grants Committee, for sharing more about how NASW's funding programs help science writers in their professional lives.
The magazine layout is once again free of stock graphics, thanks to your contributions and tweets. Ben Young Landis (Creative Externalities), who along with Guy Rogers (Spark Creative Design) produces the magazine, also serves as NASW's social media engagement editor. Throughout the magazine you'll see crossover elements from our online messaging and snapshots from our Twitter community.
Reader participation is encouraged. We want to showcase photos from your professional work and travels–submit them here. Do you want to be featured in our #SciWriLife column? Tweet your work desk or travel packing photos with that hashtag.
Finally, we would like to acknowledge an erratum that was not addressed prior to press. Due to an editorial error, a graphic on our printed cover and page 22 displays "they/their/theirs" as a model for listing gender neutral pronouns. The commonly accepted convention for listing such pronouns is currently "they/them/theirs" or simply "they/them." We deeply regret this oversight. We have corrected it in the digital version.
As always, comments and contributions are welcome. Contact Editor Sarah Nightingale at editor@nasw.org. For information about advertising, email adreservations@nasw.org.