Ten talented juniors and seniors from across the country gathered in Boston Feb. 14-18 to report on the American Association for the Advancement of Science meeting as NASW's undergraduate travel fellows for 2013. The students were chosen by NASW's Education Committee from a competitive set of applicants for the fellowship, which covers all expenses to attend AAAS.
The committee organized an orientation for the travel fellows and assigned them senior mentors from NASW's membership. Each student chose a scientific session at AAAS to cover for the NASW website. Their articles will appear here over the next week. For most of the students, this represents their first national clip.
The students also attended NASW's internship fair, which attracted a record 69 students and 24 recruiters. Last year, travel fellows earned prestigious internships at New Scientist, CERN, the Yale School of Medicine, and elsewhere.
During the next several days, we will be posting their reports here.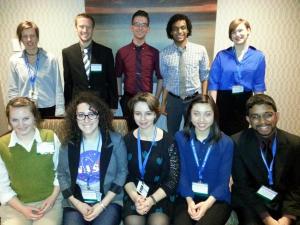 Front row (l to r): Sarah Witman, University of Wisconsin; JoAnna Wendel, University of Oregon; Jessica Brodsky, Brown University; Laura Kross, University of Idaho; Anthony Cave, Florida International University.
Back row (l to r): Sarah Farmer, University of North Carolina, Asheville; John Arnst, University of Florida; Brendan Bane, University of California, Santa Cruz; Nicholas St. Fleur, Cornell University; Chelsey Coombs, University of Illinois.
Photo: Jeff Grabmeier