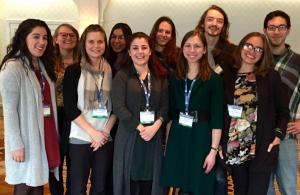 2016 NASW Travel Fellows to AAAS, front row, left to right: Nicole Wetsman, Bowdoin College; Maria Temming, Elon University; Rachel Butch, University of Pittsburgh; Elizabeth Jacobsen, Williams College; Laura Olivieri-Robles, Universidad de Puerto Rico-Recinto de Mayagüez. Back row, left to right: Rachael Lallensack, University of Wisconsin, Madison; Danna Oassis López Pérez, Universidad Nacional Autónoma de México; Meagan Goldman, Williams College; Billy Beaton, University of North Dakota; Andrew Silver, University of Florida. Photo by Ashley Yeager.
WASHINGTON — Massachusetts, Maine and Mexico City sent stellar students this year as NASW Travel Fellows. So did Pennsylvania and Puerto Rico, as well as North Dakota, North Carolina, Wisconsin and Florida. The 10 fellows, from a range of geographic, academic and cultural backgrounds, joined each other in the nation's capital to report on the 2016 American Association for the Advancement of Science (AAAS) annual meeting, held Feb. 11-15.
Fellows were selected from a competitive nationwide pool of applicants by the NASW Education Committee, which is chaired by Czerne Reid and Ashley Yeager. The NASW Travel Fellowship covers expenses associated with attending AAAS. This year's fellows are all university seniors, and their majors include biology, English, physics, journalism, mathematics, neuroscience, and environmental studies.
Students chose scientific sessions at AAAS to cover for publication on the NASW website. For many, this is their first national-level clip. Topics include neutrinos, genome editing, dark matter, infectious diseases and the use of drones to study climate change.
The Education Committee organized an orientation for the fellows and assigned them mentors from among NASW's more seasoned members. They, along with the other students who took part in the mentoring program, had the honor of hearing from noted science writer and author Brooke Borel.
Fellows also had the opportunity to meet editors from top publications and research institutions during the NASW Internship Fair, coordinated by Erik Vance, which attracted 55 students in all, and 27 recruiters from outlets such as Nature, NPR, Science, STAT, Science News, Brookhaven National Laboratory, Hiroshima University, Johns Hopkins Medicine, and Okinawa Institute of Science and Technology.
Over the course of this week, the Travel Fellows' stories will be posted here.