Congratulations to the 2020 NASW Travel Fellows to the American Association for the Advancement of Science (AAAS) annual meeting, set for Feb. 13-15 in Seattle, Wash.
These 10 undergraduate students and two graduate students were selected by the NASW Education Committee from a competitive pool of applicants. Travel fellows will each write a story for publication on the ScienceWriters website and participate in the NASW Mentoring Program and Internship Fair. This is the first year NASW has offered these travel fellowships to graduate students.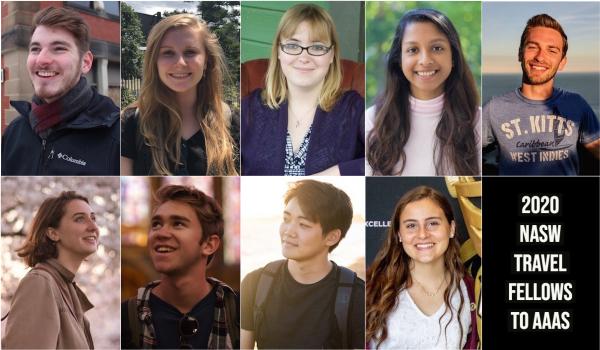 The 2020 undergraduate fellows are:
Claire Bugos, Northwestern University
Kyle Chambers, University of Florida
Mitch Charlton, Western University
Emily Davis, The University of North Carolina at Chapel Hill
Srivindhya Kolluru, University of Toronto
Max Kozlov, Brown University
Vanessa Moss, Sewanee: The University of the South
Zack Savitsky, University of Florida
Kori Suzuki, Macalester College
Sarah Swiersz, University of Central Florida
The 2020 graduate fellows are:
Calley Jones, Mayo Clinic Graduate School of Biomedical Sciences
Claudia Lopez-Lloreda, University of Pennsylvania
Learn more about NASW's student programs at the AAAS meeting, including opportunities for NASW members to serve as mentors.
Special thanks to the Education Committee members and to the many other NASW members who volunteer as mentors, editors, speakers, and assistants. Without the generous gift of your time, expertise and goodwill, these signature programs, which are a highlight for students each year, would not be possible.
Hero image by Free-Photos from Pixabay