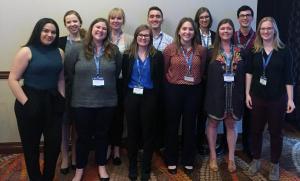 Front row, left to right: Carolina Meraz, Purdue University; Sophie Bates, University of California, Davis; Gina Vitale, Drexel University; Abigail Eisenstadt, Johns Hopkins University; Katie Brown, California State University, Monterey Bay; Paige Bartlett, University of Washington. Back row, left to right: Grace Niewijk, Yale University; Eva Frederick, The University of Texas at Austin; Jordan Gaal, University of Wisconsin-Madison; Sarah Olson, MiraCosta College; Andrew Urevig, University of Minnesota Twin Cities.
AUSTIN, Texas — Eleven budding science writers won NASW Travel Fellowships to attend the 2018 American Association for the Advancement of Science (AAAS) annual meeting.
Fellows covered scientific sessions of their choosing and wrote news stories for publication on the NASW website. Topics included gene editing, science innovation in developing nations, the use of algae to address global food shortages, the aging brain, and the role of the human microbiome in disease prevention and treatment. These stories are the first national-level clips for many of the students.
The NASW Education Committee, co-chaired by Czerne Reid, a lecturer at the University of Florida College of Medicine, and Ashley Yeager, an associate editor at The Scientist, selected the fellows from a competitive and diverse pool of applicants. Academic majors represented in this year's class include molecular biophysics, English, life sciences communication, scientific interpretation, chemistry, journalism, and environmental studies.
Fellows were paired with NASW volunteer mentors and participated in two specially designed orientation sessions, during which they heard a talk by Jenny Cutraro, founder and director of Science Storytellers, a science journalism education program for K-12 students. Fellows also had the opportunity during the NASW Internship Fair to meet with editors from top science writing outlets including Nature, National Geographic, PBS Newshour, Science News, the Washington Post, Chemical & Engineering News, Fermi Lab, Weber Shandwick, Cell Press/Elsevier, and EOS. The fair was coordinated by Erik Vance, a freelance science writer and author of Suggestible You.
Be on the lookout for the fellows' stories, which will be posted here.