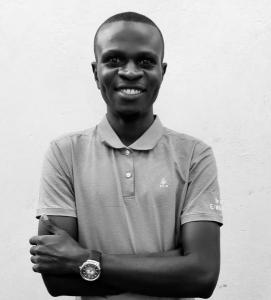 Alex Baluku, a journalist based in Western Uganda and a new addition to the NASW community, shares #WhySciWri in this short Q&A.
Q: Tell us a little about yourself.
A: I'm a talented and immensely creative journalist with a commitment to high-quality research and writing. While I have a comprehensive journalism background since 2013 to date, my recent emphasis is on health, wildlife, water and environment.
Q: How did you get interested in science writing?
A: I became interested in science writing after applying and attending a virtual training by NASW. It was so interesting and I learnt a lot of new skills and techniques on how to write a science story. Also, I was influenced after hearing positive and impactful testimonies from colleagues during the two week training. It is during and after the training that I developed ambitions to become a science writer despite having written some science stories before.
Q: What are you working on at the moment?
A: Currently, I am working on two interrelated projects. I am investigating the circumstances under which apes in the Mount Rwenzori National Park in Rwenzori Region of Western Uganda are on the verge of extinction over their skin, body parts and meat trade in the area and across the country. In Uganda, the most hunted and killed apes are the chimpanzees, blue monkeys, duikers and bushbucks. Apes are killed by hunters for food almost everywhere they live on Mount Rwenzori, despite being critically endangered. It's devastating their populations and it's also threatening people's health. The second project is also about the extinction of the African green pigeons in Semliki National Park in the Bundibugyo district of Rwenzori Region in Western Uganda.
Q: What do you love most about your job/career?
A: I love telling news stories that impact on the life of a common man.
Q: What's the website you visit most often for work? Or, how about your favorite social media account that you follow?
A: The main website I use for work is westniletodaynews.com and the district public library website. And my favorite social media is twitter.
Q: If you could write about any scientific event (past, present, or future) what would it be and why?
A: Plant and animal health! I am interesting myself about these topics because plant health promotes food affordability through effective reduction of farmers' economic losses resulting from the damage of plant pests, and keeping animals healthy keeps communities vibrant and growing as well.
Q: Why did you join NASW and what kinds of professional connections/opportunities are you seeking?
A: I Joined NASW because of its uniqueness and I because want to switch to another new beat. I trust I will be able to get editors and mentors to always guide in scripting science stories and guide me in finding other international platforms to publish my work. I look forward to finding opportunities to connect with other professionals and story grants.
Follow Alex on Twitter @BalukuAlex51.