Amanda Morris, a multimedia bioscience reporter at The Arizona Republic and a new addition to the NASW community, shares #WhySciWri in this short Q&A.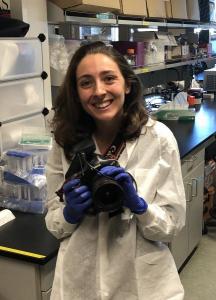 Amanda Morris
Q: Tell us a little about yourself.
A: I'm an early career journalist working as a multimedia bioscience reporter at The Arizona Republic. I've reported on a wide variety of topics including viruses, oncology, genetic engineering, genetic epidemiology, environmental issues and stem cells.
Q: How did you get interested in science writing?
A: I got interested in science writing through my love of the outdoors and the natural world. I really loved learning new things about how the world around me worked and I thought that science writing would be a good way for me to explore that passion further.
Q: Describe a typical day.
A: A typical day for me means bouncing around a variety of topics to do interviews, conduct research, and write stories. Today, for example, I'm shuffling between doing research about COVID-19 variants, writing about genetically modified organisms, and doing an interview about stem cell treatments. It's certainly never boring and I love how much this beat challenges me to learn new things every day. I also really love the ability to talk to a lot of researchers and scientists who are experts in their field because they always have really fascinating insights to share.
Q: What's the website you visit most often for work? How about your favorite social media account that you follow?
A: I read a wide range of news website for topics like politics and general news, but I like reading science news from the Genetic Engineering and Biotechnology News website as well as Science, Outside, and Discover magazines, to name a few. I don't think I have one website that I visit more frequently than others.
However, some of my favorite social media accounts are that of fellow female science journalists and writers on Twitter, such as Kendra Pierre-Louis, Katherine Wu, Jocelyn Solis-Moreira, Melody Schreiber Maggie Koerth, Joan Meiners, and Wudan Yan to name a few. I admire all of their work so much.
Q: If you could write about any scientific event/breakthrough/topic (past, present or future) what would it be and why?
A: If I could have, I would have loved to have reported on the advent of CRISPR. Obviously, there's still a lot of work to be done with reporting on CRISPR technology, but I think it would have been exciting to report on when the technology was first discovered because it really is so potentially game-changing. I also just personally find questions around gene editing to be particularly fascinating.
Q: Why did you join NASW and what kinds of professional connections/opportunities are you seeking?
A: I joined NASW because I'd love to be connected with other science writers who I can learn from as an early career reporter. I'm the only bioscience reporter in my newsroom and there's no designated general science reporter in my newsroom, so I haven't had opportunities for science writing mentorship. I'm looking to grow professionally and maybe find other writers who can understand my nerdy, science-based jokes.
Follow Amanda on Twitter @AmandaMoMorris
Hero image by Darwin Laganzon from Pixabay