Chantal Cough-Schulze, a communications specialist at the Texas Water Resources Institute and a new addition to the NASW community, shares #WhySciWri in this short Q&A.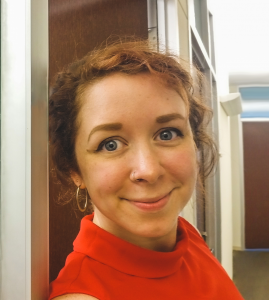 Chantal Cough-Schulze
Q: Tell us a little about yourself.
A: I like working at the intersection of environmental science, public health, and global change. Since getting my M.S. in science and technology journalism from Texas A&M University in 2019, I've been doing that work as a communications specialist at the Texas Water Resources Institute. I love that writing about water issues inherently means that I write about climate change, toxicology, environmental justice, agriculture, policy, and more. In addition to the journalism side of my job, I'm also the managing editor of the Texas Water Journal, a small academic journal devoted to Texas water science, policy, and engineering.
Q: How did you get interested in science writing?
A: I didn't plan to go into science writing. Over several years, I did plumbing and electrical work, developed science education programs, articulated animal skeletons, and created the odd radio story, among other jobs. Throughout it all, I was endlessly asking questions; I wanted to know how everything worked. While I was working as a receptionist at Texas A&M, Dr. Barbara Gastel and I got to talking about the science journalism graduate program she leads. I remember her telling me, "You know, I think you might be one of us" — "us" being science writers. She was right: joining the program and doing science writing felt like coming home, and it has ever since.
Q: What do you love most about your career?
A: I love that I feel useful. What we publish at the Texas Water Resources Institute and the Texas Water Journal is read by scientists, policymakers, farmers, water utility managers, and more, so our readers can take what we've written and apply it in their policy meetings, labs, and fields. Whether I'm writing about agriculture in the face of increasing salinity, PFAS in drinking water, or hurricane preparedness, I love that I can connect people with well-informed, actionable ideas.
Q: What's the website you visit most often for work? Or, how about your favorite social media account that you follow?
A: Besides environmental news sites, the websites I use most often are tools: Otter.ai and oTranscribe for transcription, OneLook and various style guides for editing, and Trello for organizing my brain.
Q: If you could write about any scientific event/breakthrough/topic (past, present or future) what would it be and why?
A: I would like to cover the moment we reach net zero emissions — and hopefully I actually will get to cover that eventually! In the meantime, I'll keep writing about what's happening on the way.
Q: Why did you join NASW and what kinds of professional connections/opportunities are you seeking?
A: I joined NASW because I want to see what the landscape is like and learn from and connect with other science writers. In an uncertain world, it's encouraging to see how other people are navigating the same challenges as me.
Follow Chantal on Twitter @chantalfirestar.
Hero image by rony michaud from Pixabay.