Harrison Tasoff, a science writer at the University of California, Santa Barbara, shares #WhySciWri in this short Q&A.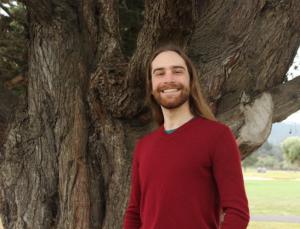 Harrison Tasoff
Q: Tell us a little about yourself.
A: I love exploring, whether it's collecting fossils and minerals, searching for wildlife among the tidepools, or foraging for edible plants. My favorite thing is to share the enthusiasm I have for these activities with others. I often try to coax friends into rockhounding trips, or bring sea creatures over for other beach-goers to look at. The amazement, and slight trepidation, in the eyes of a person holding a kelp crab for the first time has made my day many a time.
I tend to gravitate toward topics in ecology and evolution, physics and astronomy, and geology and paleontology. My academic background is in math and physics, which provides a great foundation for talking with any scientist, but also gives me a special appreciation for these fields. Marine biology is a big part of my family life, so I'm always happy when my stories take place underwater.
I'd say I'm at a fairly early point in my career. I published my first article in fall of 2016, and have been writing professionally since May 2017. In September, I joined the office of public affairs at UC Santa Barbara, where I cover research at the university as one of the staff science writers. I enjoy the diversity of science I get to write about and the opportunity to work much more closely with researchers than I could as a journalist. I do enjoy science journalism, though, and may well find a position at a media outlet as my career continues.
Q: How did you get interested in science writing?
A: I earned my bachelor's degree in pure mathematics from Swarthmore College, with a healthy dose of physics and philosophy. It was wonderful, and I often miss the more analytic aspects of these fields, but I never wanted to specialize, which is the cornerstone of modern academia. Instead, I wanted to leverage my diverse interests and contagious enthusiasm as strengths, and continue learning about cutting-edge research and sharing it with those not privy to the results.
Two years after college, I applied to several graduate programs in science journalism. I ultimately attended New York University's Science, Health, and Environmental Reporting Program (SHERP). Under the guidance of my professors, classmates, and editors, I developed from a mathematician with a knack for writing into a polished science journalist, familiar with the standard practices and techniques of the trade.
Q: What are you working on at the moment?
A: Right now, I'm covering research by UC Santa Barbara that demonstrates it's possible for two different communities, such as coral or seaweed, to exist under the same conditions on a tropical reef. What's more, a large shock, such a cyclone, can change the composition from one state to another even if other conditions don't change. At the same time, I'm writing about a study on how a person's genetics and brain activity correlate with altruistic behavior. The study participants were all newlyweds, which made it a perfect story for Valentine's Day.
Q: What's the website you visit most often for work?
A: Honestly, I visit Wikipedia most often, because there is such a diversity of topics that I need to familiarize myself with. It's the perfect place for a crash course. My professional life is a careful balance of background knowledge and preparation on the one hand, and improvisation and quick learning on the other. I like to say that it's my job to learn things quickly and then figure out how to explain them to others. The more background knowledge I bring to an interview, the easier it is for me to pick up new concepts.
I've always loved educational videos and documentaries, and the rise in educational YouTube programs has been a windfall in this respect. I'm particularly fond of Cody Don Reeder's chemical, engineering, and geologic explorations on his channel Cody'sLab. I also like the work of Extra Credits, PBS Eons, Veritasium, and SmarterEveryDay. These folks are creating truly informative, and more importantly, engaging content that connects the public with the great wide world.
Q: If you could write about any scientific topic (past, present, or future) what would it be, and why?
A: Big events get covered by everyone, as well they should. But this means that specific stories often get washed away in the flood of coverage about these discoveries. I love writing stories that no one has thought to cover, but end up being fascinating. Probably my favorite article I've written to date is my investigation on why fish don't swim upside down. There isn't an obvious reason. Indeed, most of the researchers I spoke with were left scratching their heads, as well. But eventually I assembled an answer I was satisfied with, and now it's out there for other folks who are also curious about this rather fundamental question.
Q: Why did you join NASW and what kinds of professional connections/opportunities are you seeking?
A: I joined NASW because it's good to be in a professional organization. Unions, guilds, and associations provide professional support to their members throughout the different stages of their careers. As a young science writer, this primarily takes the form of professional connections and job opportunities. However, I recently submitted some of my articles for award consideration, and plan continue to do so in the future. I hope my work gains recognition from my colleagues. It's always satisfying to have your peers tell you that your work is worthwhile.
Follow Harrison on Twitter @HarrisonTasoff