Kimberly Yavorski, a Philadelphia-based freelance writer and a new addition to the NASW community, shares #WhySciWri in this short Q&A.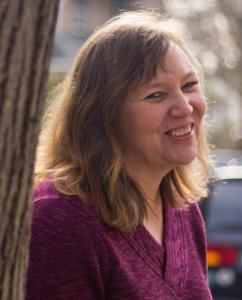 Kimberly Yavorski
Q: Tell us a little about yourself.
A: I started my writing career right out of college on the editorial staff of a computer trade journal, where I wrote about what was then cutting-edge technology (going against my college professor's advice to write about what you know). I then turned to observing little humans and how they grow and learn. As my subjects moved on to new pursuits, I returned to writing, first about what I had learned in those years of study, then moving on to other interests I had when I was younger. Topics I write about today include parenting, education, social issues, health, nature, and how all of these intersect with science.
Q: How did you get interested in science writing?
A: Though I didn't think of it that way, I now realize my first job out of college was science writing. I didn't seek it out specifically; a local publishing house had an opening and I applied (though I actually started, literally, in the mail room). I circled back to science because I am fascinated by the "whys." I often ponder why things are a certain way, how things work, or what catalyst might be behind changes. I started blogging about these obscure questions and sort of fell into writing at an online publication called Sciencing. I recently realized that much of my writing has science at its core.
Q: What do you love most about your career?
A: Being able to pursue the answers. I love the research part of my work just as much as the writing part. The challenge, of course, is realizing I have enough answers for the story at hand and putting aside new questions for a future one.
Q: What's the website you visit most often for work?
A: Since I write on a variety of topics, this may change from week to week. At one point, I wrote frequently about birds and spent a considerable amount of time at The Cornell Lab of Ornithology. I also find government websites useful; I've spent quite a bit of time at the National Center for Biotechnology Information (NCBI). (I may have checked my browser history to answer this question.) I also read something from The New York Times and Washington Post every day.
Q: If you could write about any scientific event/breakthrough/topic (past, present or future) what would it be and why?
A: I am fascinated by brain science. We have learned so much about how the brain works in recent decades, yet there is still so much we don't know. Scientific breakthroughs and the promise of treating so many diseases/disorders are exciting to think about. Talking to the incredible people responsible for such "magic" and sharing their stories with the world would be amazing.
Q: Why did you join NASW and what kinds of professional connections/opportunities are you seeking?
A: I joined NASW for the valuable resources and the opportunity to geek out with like-minded people who are not necessarily scientists (as well as those who are). As a writer, I sometimes see my role as that of translator for those who are intimidated by the jargon (this is particularly true when writing for children). I look forward to meeting other writers, sharing tips and resources, and learning about new opportunities.
Follow Kimberly on Twitter @KimberlyYavo