Lindsey Leake, science writing graduate student at Johns Hopkins University and USA TODAY Network reporter in Florida, shares #WhySciWri in this short Q&A.
Q: Tell us a little about yourself.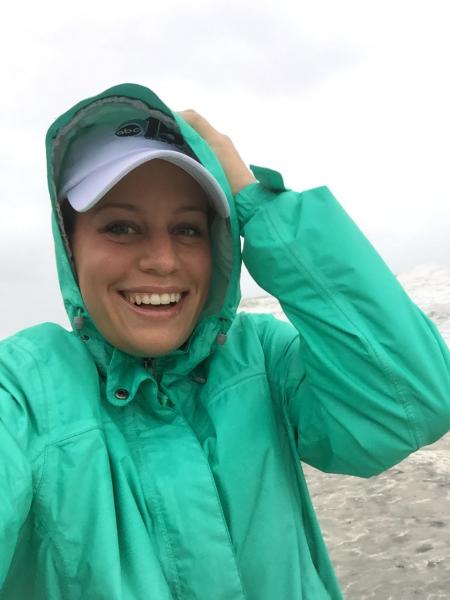 A: I'm pursuing an M.A. in Science Writing at Johns Hopkins University. Last year I graduated from American University with an M.A. in Journalism and Digital Storytelling, and I'm grateful for the opportunity to further my journalism education with a focus on the sciences. By day, I'm an explanatory reporter for TCPalm, a USA TODAY affiliate on Florida's Treasure Coast. In the nine months I've held this role, I've written about the economic impact of alligator hunting, how nuclear power plants prepare for hurricanes, and the legal battle to regulate single-use plastics. I love that no two days of reporting are ever the same!
Q: How did you get interested in science writing?
A: It wasn't until I applied to Hopkins last year that I realized I'd been training to be a science writer my whole life. Growing up, I volleyed between wanting to be a marine biologist or news anchor, doctor or novelist. I went to a sci/tech high school, yet graduated from Princeton University with a B.A. in Italian with Journalism and Certificate in Translation and Intercultural Communication.
I've held a variety of journalism jobs in the decade since — from assistant editor of Virginia Living magazine to digital producer at WJLA-TV in Washington, D.C. — but neglected the scientist half of my heart in the process. Science writing allows me to savor my two loves.
Q: What are you working on at the moment?
A: During this global COVID-19 pandemic, every journalist has transformed into a science communicator. Health journalism has never been more important — especially at the local level, as people's well-being correlates to their knowledge of how the crisis has permeated their communities. What a privilege it is to be a science writer today.
My coverage has addressed the new coronavirus' impact on dairy supply chains, presidential primary turnout, interstate travel, grocery shopping and hurricane shelters. Long-term projects on the back burner include aging nuclear power plants, and the third in a series of articles I've written about deadly boating accidents.
Q: What's the website you visit most often for work?
A: One of my required courses at American was Data-Driven Journalism, which taught me to not only use statistics to beef up an article, but also start with a jumble of numbers or records and find the stories they conceal. I got hooked on that reporting technique and now incorporate data into every story I write. For example, that's how I uncovered gender and racial gaps among Florida alligator hunters.
My publication favors Infogram, so that's the data viz site I visit most, but I enjoy Datawrapper, Mapbox and Knight Lab, too. I'm working my way through DataJournalism, which offers a wealth of resources for science communicators to take advantage of.
Q: If you could write about any scientific event/breakthrough/topic (past, present or future) what would it be and why?
A: For as many scientific breakthroughs humanity has so far achieved, there are frontiers yet untouched. I'd love to one day report on a cure for cancer or the discovery of extraterrestrial life. But my biggest hope is to cover advances in climate science that secure our Earthly future.
At the moment, I'm fascinated by geoengineering — environmental manipulation designed to mitigate global warming — and the momentous opportunities and ethical dilemmas that come with it. I'm currently taking a Hopkins course called Communicating Climate Change that's arming me with the skills to tackle the subject.
Q: Why did you join NASW and what kinds of professional connections/opportunities are you seeking?
A: A number of my Hopkins professors and classmates recommended joining NASW. I'm so excited to be a member, and appreciate this warm welcome to an organization that has supported our craft for 86 years. I'm seeking mentorship from veteran science writers, as well as inspiration from those finding creative ways to communicate the wonders of our world. 
Follow Lindsey on Twitter @NewsyLindsey.