Natalie Rogers, a communications specialist at the University of New Mexico in Albuquerque and a new addition to the NASW community, shares #WhySciWri in this short Q&A.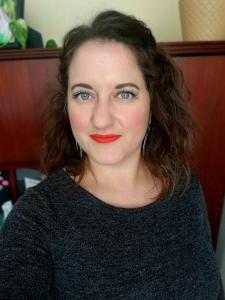 Natalie Rogers
Q: Tell us a little about yourself.
A: I work at The University of New Mexico in the Office of Research as a communications specialist and public information officer, so I write about all the research happening on our main campus. I've been in science communication for 10 years and employed with UNM for 13 years. I am in my first year of a Master of Public Health program, as well.
Q: How did you get interested in science writing?
A: I started my career communicating science with the public at local science museums. Professional science communication was a natural progression from that, and included video and public talks. The science writing sort of came out of that as an added bonus.
Q: What do you love most about your job?
A: One of the things I love most about my job is that I get to write about a wide spectrum of research, from engineering and biology to fine arts. One of my recent press releases was about a biosensor made to identify protein aggregates in the brain for early detection of diseases like Alzheimer's and Parkinson's.
Q: What's the website you visit most often for work? How about your favorite social media account?
A: The #scicomm and #sciencewriting community on Twitter are my go-tos! I also spend a lot of time researching the meaning of science and research jargon.
Q: If you could write about any scientific event/breakthrough/topic (past, present, or future) what would it be and why?
A: I would write about viruses and infectious disease outbreaks for the rest of my life if I could! Every part of a virus story fascinates me, from the molecular traits of the RNA in a virus to the impact an outbreak can have on a community and the world.
Q: Why did you join NASW and what kinds of professional connections/opportunities are you seeking?
A: I started attending the NASW annual conference about five years ago as a way to network and be inspired by people in my field, not even realizing the lasting friendships I'd make and the tremendous positive impact it would have on my personal and professional life. Once I had enough writing pieces I was proud of, joining NASW was a no-brainer.
Follow Natalie on Twitter @LeiaShotFirst
Hero image by Gerd Altmann from Pixabay