Scott Michaux, a research writer at Georgia State University and a new member of the NASW community, shares #WhySciWri in this short Q&A.
(Editor's note: As of December, 2019, Scott Michaux is a freelance writer based in Atlanta, Ga.)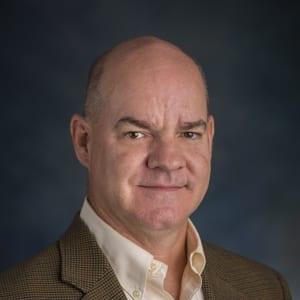 Q: Tell us a little about yourself:
A: I'm the research writer for the College of Arts & Sciences at Georgia State University. I've been in the role since last summer, after spending 30 years in newspaper sports journalism. I worked as an editor, designer, reporter, and columnist covering everything from high schools, ACC basketball, SEC football, NFL, NHL, NBA, MLB, NASCAR, and golf. Prior to Georgia State, I spent 17 years as a sports columnist for The Augusta Chronicle.
Q: How did you get interested in science writing?
A: I was interested in writing about university research. With the print journalism industry struggling, I knew it was time to put my writing skills to use in another forum. My wife, another former newspaper journalist, made the leap to higher education more than a decade ago and I have seen the satisfaction she finds in her work at the University of Georgia. So I wanted to pursue the same kind of meaningful role and found that opportunity at Georgia State.
Q: What do you love most about your job?
A: The diversity. Since I'm the research writer for the entire College of Arts and Sciences at Georgia State, I get to work with professors across the academic spectrum, from physical sciences to social sciences to humanities. And these researchers challenge me every day to delve deeper into their areas of expertise to learn how to pass on the relevance of their work in compelling ways to a broader audience.
Q: What's the website you visit most often for work and favorite social media account that you follow?
A: For work, I enjoy reading Futurity to see how research is being covered at other colleges and universities. My personal Twitter feed remains heavy on sports— especially golf—but some of my favorite follows are experts, like historian @KevinMKruse, who are deft at debunking the mistruths rampant on social media.
Q: If you could write about any scientific event/breakthrough/topic (past, present, or future) what would it be and why?
A: Among my earliest memories was watching the Apollo 11 moon landing and since then I've enthusiastically followed every remarkable step along the way of space exploration. Georgia State's powerful Center for High Angular Resolution Astronomy (CHARA)](http://www.chara.gsu.edu/)—an optical interferometric array of six telescopes at Mount Wilson, California—is boosting its strength to map out the faintest stars nearest to us in the Milky Way. Researchers are trying to find which ones might support planets that, generations from now, we might want to send spacecraft to explore. I wish we could be around to see how far into the universe humans prove capable of reaching.
Q: Why did you join NASW and what kinds of professional connections/opportunities are you seeking?
A: My colleagues at Georgia State recommended joining NASW to connect with a diverse group of writers who have experience covering science and research. I hope these connections can help me improve my ability to write about important but complex subjects in ways that a lay audience can understand.