Seth Wiley, a graduate student at the University of Michigan in Ann Arbor, shares #WhySciWri in this short Q&A.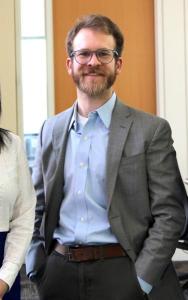 Seth Wiley
Q: Tell us a little about yourself.
A: I am a Ph.D. candidate in University of Michigan's Program in Chemical Biology. Now in my fifth year, I'm studying the microbial machines responsible for allowing bacteria to live on carbon dioxide—a process known as bacterial carbon fixation—in the Stephen W. Ragsdale lab. Before large amounts of oxygen were present in the atmosphere roughly 3.5 to 4 billion years ago, microbes found a way to live near geothermal vents where carbon dioxide, hydrogen gas, and metals such as iron, cobalt, and nickel can be found in abundance. In studying these machines, I try to figure out exactly how these bacteria are able to transform carbon dioxide into useful biological resources.
Q: How did you get interested in science writing?
A: In my time at the U of M, I've been involved in various forms of scientific outreach ranging from public engagement, such as hosting science discussions in local bars and cafes, to science advocacy through putting on workshops and events to help scientists hone their advocacy skills.
Q: Describe a typical day.
A: A typical day in the Ragsdale lab always starts with a great cup of coffee and finishes with some protein work in an oxygen-free glovebox, which is a sealed container that allows me to manipulate materials in a separate atmosphere. A recent non-lab project I have been working on is a Science Policy and Advocacy 101 workshop for scientists, co-run with the Union of Concerned Scientists and some of my peers in Engaging Scientists in Policy and Advocacy (ESPA).
Q: What's the website you visit most often for work? Or, how about your favorite social media account that you follow?
A: The website I most often visit during work is technically Google, but only as a start. When it comes to science news, my go-to page is the "Latest News" section of Science. I really enjoy the diversity of disciplines and content, ranging from actual research articles to policy, perspectives, and pieces focusing on working conditions of scientists and graduate students.
Q: If you could write about any scientific event/breakthrough/topic (past, present or future) what would it be and why?
A: A scientific topic I have always been interested in writing on is the feasibility of nuclear fusion in the coming decades and how the International Thermonuclear Experimental Reactor (ITER) project requires significant global cooperation to achieve full nuclear fusion.
Q: Why did you join NASW and what kinds of professional connections/opportunities are you seeking?
A: Recently, a colleague referred me to join NASW to connect with a diverse group of experienced science writers in order to open up doors to professional opportunities in science writing and beyond. I am looking for ways to improve my writing skills for broad audiences and to connect with experienced writers who are familiar with the professional writing process.
Image by Gerd Altmann from Pixabay