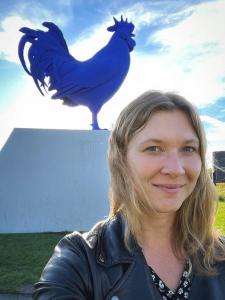 Tove Danovich
Tove K. Danovich, a freelance journalist based in Portland, Ore. and a new addition to the NASW community, shares #WhySciWri in this short Q&A.
Q: Tell us a little about yourself.
A: I'm a freelance journalist based in Portland, Oregon. I like to say that I write about whatever I'm both interested in and someone will pay me for! Getting to go straight to the experts to answer questions keeping me up at night is what made me fall in love with journalism in the first place and I'm glad to be going on nine years of asking questions. In the beginning of my career, I was mostly a food writer specializing in the history, culture, and policy of what we eat. In the last few years, I've found myself gravitating more toward writing about the environment and animals, domestic animals in particular.
Q: How did you get interested in science writing?
A: Admittedly, I wasn't very interested in science when I was in school. Since then I've learned how many amazing stories science can tell us and what an enormous umbrella "science writing" is. It's wild to me that someone writing about epidemiology and another writing about earthquakes and another writing about whales are all given the same title of "science writer". Lately I've found that the articles that made me go "I wish I could have reported that story!" were all considered science writing too. (And what's not to love about a story that tells you something we just discovered about the way the world works?) I figured I should probably get on it!
Q: What are you working on at the moment?
A: In addition to my usual freelancing, I'm in the midst of writing my first book! It's called Under the Henfluence: Inside the fowl world of backyard chickens and the people who love them and is forthcoming from Agate. (Fingers crossed for publication in spring 2023!) I got my first chickens a few years ago and was surprised to find that there weren't really any books looking at chickens as animals in the same way people have done for dogs, pigs, and even octopus. It's been fascinating to get to know them as both essentially a man made creation and, at least once upon a time, a wild bird.
Q: What's the website you visit most often for work?
A: Like a lot of NASW members, I love Twitter for following scientists doing interesting work as well as all the wonderful science journalists out there. But I have to say the main "website" I use for work has to be the public library. Libby, their ebook lending app, is a dream! I often get my best ideas after realizing that I've been checking out an awful lot of books on X topic from the library and starting to think about what questions still haven't been answered from that reading or what one thing I can't stop talking to my husband about over dinner.
Q: If you could write about any scientific event/breakthrough/topic (past, present or future) what would it be and why?
A: There continue to be so many advances in our understanding of animal cognition and language. I'm so fascinated by Christina Hunger's work teaching her dog Stella to use an alternative communication device. But we're always trying to get animals to do human things like Alex the parrot learning words or Koko with sign language. My dream assignment would be to write about the person who finds a way to speak basic dog or ape or dolphin.
Q: Why did you join NASW and what kinds of professional connections/opportunities are you seeking?
A: While I have a lot of years of clips and experience under my belt it's honestly scary to realize you want to move into a new beat. That means searching out new editors and developing relationships with them as well as learning where to go to look for stories all over again. I'm looking forward to opportunities to learn from and connect with other science writers. Please feel free to say hello online or if you're ever in Portland, Oregon!
Follow Tove on Twitter @TKDano and Instagram @BestLittleHenhouse
Hero image of Speckie by Caleb Meeds.