Vanessa Wamsley, a Nebraska-based science writer and editor, shares #WhySciWri in this short Q&A.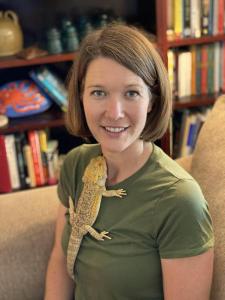 Vanessa Wamsley with her bearded dragon Roderick.
Q: Tell us a little about yourself.
A: Most of my science writing experience is in the genetics/genomics and biotech field. Still, I've had a little experience with a wide range of subjects, from Incan engineering at Machu Picchu to social media anxiety in teenagers. Recently (as in, two weeks ago on May 3), I started a full-time position on the marketing team at a company that builds instruments for scientific research. My work there is less focused on writing and more focused on creating a product with the writing, such as a web page, an email, or a booklet. At the same time, I'm continuing to work with a few freelance clients writing about stem cells, teen mental health, and a variety of medical conditions, all for a general audience. After moving around a lot over the last 15 years, I finally plan to stay put geographically, which I hope will allow me to focus more on building my career than I've been able to do until now.
Q: How did you get interested in science writing?
A: I've always loved writing and had a knack for understanding grammar. Add to that a deep love for nature, the environment, and learning something new every day and my progression into science writing felt pretty natural.
Q: Tell us something that you love about your work/career?
A: Last month (April), I finished up a series of blog posts about some of the research instruments used in SARS-CoV-2 discoveries over the past couple years. The project started out as one article and morphed into three posts before we finished it up. The pieces look at nine different peer-reviewed papers with authors across 31 institutions in Africa, North America, Asia, and Europe. The editors I worked with were superb, and I enjoyed the sheer scope of what we were trying to cover.
Q: What's your favorite social media account that you follow?
A: My favorite social media site is a Facebook group I'm in for science writers. I don't participate much in the conversation, but I've learned a lot about freelance work, writing, and the various roles that science writers often fill.
Q: If you could write about any scientific event/breakthrough/topic (past, present or future) what would it be and why?
A: Over the past couple years, I've been heavily involved in the SCUBA community, and I'd love to branch out into writing more about diving, especially research that requires frequent, repeated dives or new underwater research tools such as cameras or light meters that divers place and scientists monitor from the surface.
Q: Why did you join NASW and what kinds of professional connections/opportunities are you seeking?
A: When I was in the Masters in Science Writing program at Johns Hopkins, I had a student membership and enjoyed the access to networking opportunities and to professional benefits such as job postings, insurance for writers, or advice for what to look for in a contract. As a freelancer, I often feel isolated in my work, so I wanted to seek out connections with other science writers who might be having the same experience.
Follow Vanessa on Twitter @vwamsley.