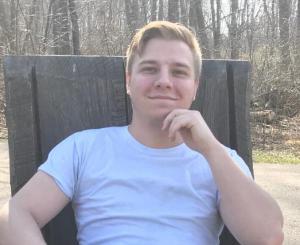 Zach Kortge
Zach Kortge, an undergraduate student at Central Michigan University studying neuroscience and psychology and a new addition to the NASW community, shares #WhySciWri in this short Q&A.
Q: Tell us a little about yourself.
A: I am still at the very beginning of my career as a science writer as I finish up my undergraduate degree in neuroscience and psychology. I spend less time writing than I would like while school is happening, but I think it gives me a good basis of knowledge as I progress into the science writing field. I would like to cover brain-related topics as my career progresses, but I also have a soft spot for evolutionary biology, pharmacology, and general medicine.
Q: How did you get interested in science writing?
A: Science has also been an important part of my schooling as I have traversed my undergraduate years. I believe science is becoming more a part of our daily discussions, with science literacy becoming an invaluable tool of modern society. The science writing community then becomes the catalyst of understanding between the research, and the public. I wanted to be a part of increasing the publics' appreciation and understanding of new scientific discoveries.
Q: What do you love most about your career?
A: I think this career offers a level of curiosity freedom that other science careers don't. I love the idea of being able to explore, and write about, any topic that is currently interesting to me. The variety allows me to be passionate and curious about every project.
Q: What's the website you visit most often for work?
A: I think the place I visit the most is The Open Notebook. Especially for someone new in the field, there is not a better place to get a comprehensive look into the field. The TON collections and the Pitch Database have answered so many of the questions that I have had as I practice my writing and pitching.
Q: If you could write about any scientific event/breakthrough/topic (past, present or future) what would it be and why?
A: The invention of CRISPR-Cas and gene editing is a fascinating topic to me. The discovery is awash with medical potential and ethical concerns. Covering the topic in the early days of its announcement would be an exploration into the mountains and pitfalls of possibility the system could have on individual diseases as well as humanity at large.
Q: Why did you join NASW and what kinds of professional connections/opportunities are you seeking?
A: I stumbled onto the website while researching the field of science writing and saw some of the great resources that members were able to take advantage of. One of the opportunities I was looking for just started, the David Perlman Virtual Mentoring program has paired me with a great mentor. I have already learned so much and I am excited to continue working with and learning from the community.
Follow Zach on Twitter @ZachKortge.
Hero image by Gerd Altmann from Pixabay.