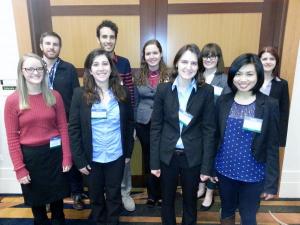 Nine talented juniors and seniors from the East Coast to the West Coast, and as far north as Montreal, gathered in Chicago Feb. 13-17 to report on the 2014 American Association for the Advancement of Science meeting. These travel fellows were selected by the NASW Education Committee from a competitive set of applicants. The NASW Travel Fellowship covers expenses associated with attending AAAS.
The Education Committee organized an orientation for the travel fellows and assigned them mentors from among NASW's more seasoned members. Each student chose a scientific session at AAAS to cover for publication on the NASW website. For most of the fellows, this represents their first national-level clip.
Fellows also had the opportunity to meet editors from top publications and research institutions during the NASW internship fair, which attracted 65 students in all, and 16 recruiters from outlets such as Nature, New Scientist, Science News, Brookhaven National Laboratory, Okinawa Institute of Science and Technology, and Yale School of Medicine.
The NASW Travel Fellows' dispatches from The Windy City have been posted here.
Back row, L to R: Joshua Sheetz, University of North Carolina, Chapel Hill; Kaine Korzekwa, University of Texas at Austin; Sarah Frazier, Rice University; Kelsey Kennedy, Oregon State University; Jesse Mixson, University of Florida
Front row, L to R: Kati Moore, University of North Carolina, Chapel Hill; Emily Maier, University of Pittsburgh; Laurel Hamers, Williams College; Jinjin (Jane) Zhang, McGill University