The National Association of Science Writers hosts three email-based discussion lists that aim to foster a sense of community among members who are scattered across the country and globe, and connect members with shared professional interests.
The lists are:
NASW-Talk, a public discussion list on topics related to science writing.
NASW-Freelance, a members-only list on topics specific to freelancing.
NASW-PIO, a members-only list on topics relevant to public information officers.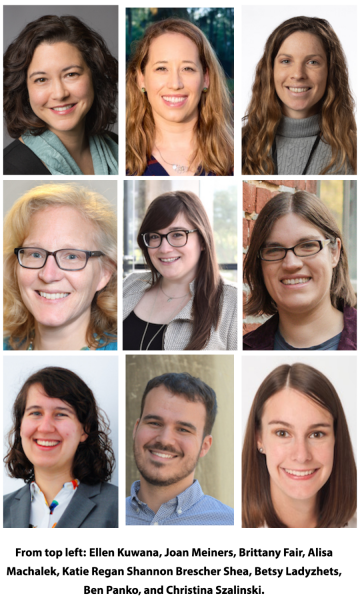 Last year, a subcommittee for online engagement recommended that each of NASW's discussion groups have several community managers — volunteers who help seed thoughtful, reflective discussions and engage community members by making connections, introducing new members, and more.
These activities are not intended to replace questions and discussion starters from list members nor will the community managers be responsible for enforcing list rules; that role that remains in the hands of the list moderator, Russ Clemings.
Thank you to everyone who volunteered to serve. The new community managers are:
NASW-Freelance:
Ellen Kuwana
Ellen is a Seattle-based science communicator who has worked for the University of Washington on various grant-funded projects and for Seattle Children's Research Institute in pediatric bioethics. After stints as executive director of a medical nonprofit and associate director of scientific communications for a creative agency, she plans to launch a freelance scientific editing business.
Joan Meiners
Joan is a freelance science journalist and former ecologist. Her writing and data reporting about the environment has been published in ProPublica, Smithsonian Magazine, Orion Magazine, New Scientist, The Times-Picayune and more. She is based in New Orleans.
Ellen and Joan plan to expand the freelance discussion list's role as a resource for practical information for writers at all career levels and foster an inclusive place for any member who wants to contribute and participate. They encourage participants to share freelance resources and tips and use the space to get to know other freelancers. Reach Ellen and Joan at FreelanceManagers@nasw.org.
NASW-PIO:
Brittany Fair
Brittany is a science writer for the Salk Institute for Biological Studies in La Jolla, Calif., where she writes articles for Inside Salk magazine and press releases for scientific papers. She produces science videos and co-hosts Salk's podcast, Where Cures Begin. In addition to volunteering for NASW, Brittany also volunteers as a board member for the San Diego Science Writers Association and as a social media manager for the San Diego Triathlon Club.
Alisa Machalek
Alisa started a new job at one of the National Institutes of Health (NIH) just in time to go on 100 percent mandated telework due to COVID-19. In her new role as lead writer/editor at the National Institute of Arthritis and Musculoskeletal and Skin Diseases, she looks forward to covering the full spectrum of NIH's research on skin, bones, muscles, and joints. Previously, she was a science writer at a different NIH institute, where she covered a wide range of basic biomedical research.
Katie Regan
Katie Regan is the science communication manager for the Children's Medical Center Research Institute at UT Southwestern in Dallas, Texas, where she writes press releases for upcoming scientific papers and creates content for the institute's website. She produces videos and scientific illustrations, and is responsible for all graphic design and photography projects. Katie also handles media relations and manages the institute's social media accounts.
Shannon Brescher Shea
Shannon is a senior writer/editor at the Department of Energy's Office of Science in Washington, D.C. In the Office of Communications and Public Affairs, she leads the team developing unique, overarching stories about the Office of Science's research. In addition to writing and editing stories, she also manages the Science Public Outreach Community (SPOC), the community of practice for science communicators at institutions supported by the Office of Science. Outside of her day job, she raises two kids, volunteers in climate change advocacy, and is working on an an environmental parenting advice book.
The PIO community managers plan to cultivate a supportive, inclusive, collaborative community for PIOs from around the country. They would like to see the discussion board become an active place for PIOs to seek advice, connect with their community, and share expertise. Reach the team at PIOManagers@nasw.org.
NASW-TALK:
Betsy Ladyzhets
Betsy is a data journalist and science writer based in Brooklyn, New York. She works as a research associate at Stacker, where she manages and does data reporting for the publication's Science and Lifestyle verticals, and has also written for other outlets ranging from AP Marvel to Science News. She has been lurking on NASW's listservs since she was a AAAS Travel Fellow in winter 2019, and is delighted to be serving the community in her new role.
Ben Panko
Ben is a science writer at Carnegie Mellon University in Pittsburgh, Pennsylvania, where he lives with his wife and two calico cats. He has served on the board of the D.C. Science Writers Association, and is currently involved with the burgeoning Appalachian Science Communicators.
Christina Szalinski
Christina is a freelance writer with a Ph.D. in cell biology. She has been a member of NASW since 2012. In addition to writing, she has done other science communications work, including community management for the American Society for Cell Biology, AAAS, and Rockefeller University Press.
As NASW-Talk community managers, the team are looking forward to helping create a community feel in the listserv, encouraging members to get to know one another, and supporting members who have questions/concerns/dilemmas, especially during this difficult time. They encourage new members and those who currently aren't active participants to join listserv conversations, and welcome ideas for different topics and formats of listserv posts which might stimulate dialogue. Reach the NASW-Talk community managers at TalkManagers@nasw.org.