Results are now available from the NASW-funded Science Writers Compensation Survey, conducted by the Freelance Committee. NASW members can check out the Spring 2014 issue of ScienceWriters magazine for a summary of results or read the full report and two tables of highlights using the file links below.
In 2013, the Freelance Committee proposed a survey to learn more about the types of writing work members perform and compensation received. The Finance Committee and Board approved the funding to engage an outside firm with experience in data collection and analysis. Cell Associates, with guidance and input from NASW volunteers, designed and conducted an online survey of NASW members. Cell Associates was responsible for monitoring the progress of the survey, analyzing the data, and preparing a written report of findings.
The survey was launched on Tuesday, Oct. 1, 2013, via an email burst by NASW to its members. Reminder email messages were sent periodically until the survey closed on Monday, Nov. 11.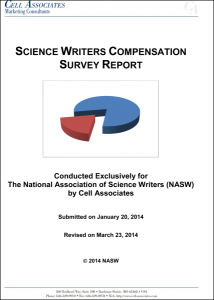 Over the six weeks that the survey was fielded, 628 completed surveys were submitted. Of these surveys, 618 were from respondents who were currently employed as staff or freelance writers and/or editors. These 618 surveys serve as the basis for this report. The margin of error for the full set of data is less than +/-3.2% at the 95% confidence level.
The full report includes a detailed breakdown of types of work as well as the pay range for each type. The survey is intended for use by NASW members only. Please do not distribute or reproduce the PDF.
The Science Writers Compensation Survey is a project of the NASW Freelance Committee. Over the course of more than a year, the following committee members conceived, budgeted, and executed the survey: Siri Carpenter, Jennie Dusheck, Jeanne Erdmann, Jeff Perkel, Kendall Powell, Robin Meadows, and Catherine Dold, with help from Jill Sakai on the PIO committee.
Going forward, the freelance committee hopes to repeat the survey process every two years in order to track trends in rates and compensation.