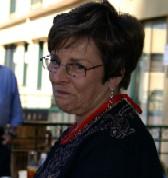 NASW depends on the power of volunteers for most of our programs and activities, and we have over 200 active volunteers annually. Each year, we recognize one of these volunteers whose contributions help make NASW the vibrant organization that it is.
On November 2, 2013, during the annual business meeting, NASW member Michael Newman received the annual Diane McGurgan Service Award. Michael, a Senior Communications Officer at the National Institute of Standards and Technology, is an active and enthusiastic volunteer with a deep interest in making the annual ScienceWriters meeting a welcoming and productive experience. He has served on the annual meeting committee, which chooses the sessions for the ScienceWriters workshops, for the last three years and is always one of the first to contribute or help out with a task.
Even before joining the committee, Michael contributed his time and energy to develop a way to welcome new attendees. Starting with the 2010 meeting in New Haven, Michael has singlehandedly organized a newcomer meet and greet to orient those attending for the first time. These sessions help new attendees connect with experienced writers, network more throughout the meeting, and gain a foothold in the community. Every year, approximately 100 people attend ScienceWriters for the first time, and Michael's idea to offer badge ribbons for "First-timers"and veterans ("Ask Me") has proved popular for connecting members.
This service award was established in 2001. NASW member Louis Lerner, who passed away in 2006, wished to show appreciation for then Executive Director Diane McGurgan and other members whose efforts on behalf of NASW go beyond the call of duty.
After sending an unsolicited check for $2,500 to NASW, he left it up to the organization to decide how best administer the money. At Diane's suggestion, it founded an annual service award with a cash prize of $500. After the initial funds were disbursed (2002-2006), the NASW board voted to continue the awards at the same $500 annual level.
Past winners of the Diane McGurgan Service Award
2012 - Rick Bogren, Robert Irion, and Mari Jensen
2011 - Jeanne Erdmann
2010 - Jenny Cutraro
2009 - Jeff Grabmeier
2008 - Richard Robinson
2007 - Dan Ferber
2006 - Ruth Winter
2005 - Nancy Shute and Corinna Wu
2004 - Mariette DiChristina and Kelli Whitlock
2003 - Beryl Benderly
2002 - Diane McGurgan