Congratulations to MK Manoylov, Ariana Remmel, and Evelyn Valdez-Ward on being selected for 2020 Diversity Summer Fellowships from the National Association of Science Writers. Each will receive $5,000 as well as a one-year membership to NASW.
This year's fellows were selected from a talented and especially diverse pool of applicants who are navigating the challenges of completing summer internships during the COVID-19 pandemic. Because many summer internships were cancelled this year, the Diversity Committee decided to lift the requirement of completion of an internship as long as the fellows work intensely to develop their careers this summer.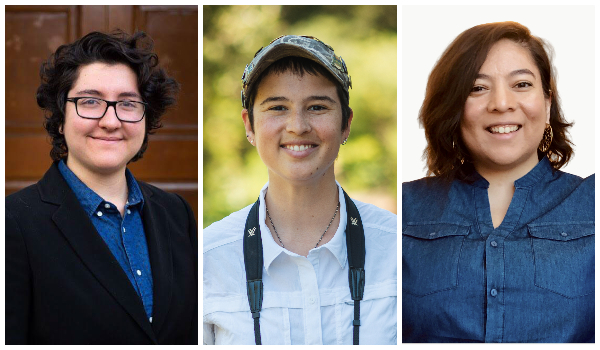 Manoylov is a freelance science writer and graduate student in NYU's Science, Health and Environmental Reporting program. This summer, Manoylov will be completing a paired mentorship program with Rebecca Harrington, deputy news editor of Insider. In this individualized program, Harrington helped Manoylov identify newsworthy topics and improve freelance pitching skills.
Remmel, a freelance science writer and recent graduate of the Science Communication program at the University of California, Santa Cruz, is starting a 6-month position as an editorial fellow at Chemical & Engineering News in June. Remmel will work remotely until the outlet's central offices in Washington, D.C., reopen, and plans to relocate to D.C. in September.
Valdez-Ward, a Ph.D. candidate at the University of California, Irvine and advocate of marginalized scientists, is completing a AAAS Mass Media Fellowship internship at the San Luis Obispo Tribune in California. She's planning on jumping into a science writing career after completing her Ph.D.
NASW's Diversity Summer Fellowship is part of ongoing efforts by the Diversity Committee to address the lack of minorities in science journalism. The fellowship is designed to supplement internship stipends and thereby lower a key barrier to entering the science journalism profession. Applications open each spring to any member of an underrepresented group who intends to complete a summer internship.
Special thanks go to this year's judges—Amy Reyes, Philip Yam, Ashley Smart, Jane Lee, Rodrigo Pérez Ortega and Kelly Tyrrell—for their time and effort in helping to select the recipients.
Image: (Left to right) MK Manoylov (by Luke D'Agostino), Ariana Remmel (by Erin Malsbury) and Evelyn Valdez-Ward.