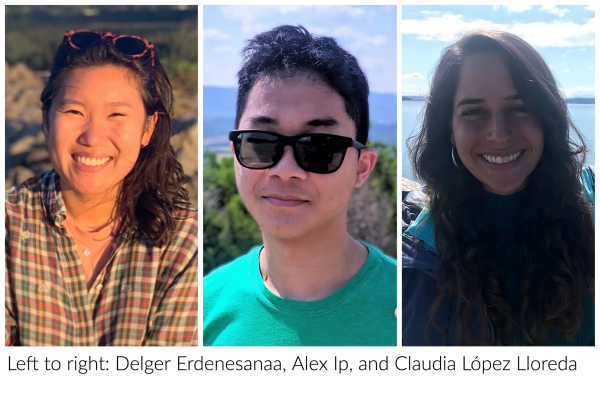 Congratulations to Delger Erdenesanaa, Alex Ip, and Claudia López Lloreda, who are recipients of this year's Diversity Summer Fellowships.
The fellowships support underrepresented minorities completing a science communication internship in any medium over the summer. The $5,000 award is intended to offset the costs associated with pursuing an internship and supplement any stipend they receive from their summer employer. Awardees also receive a one-year complimentary membership to NASW.
Erdenesanaa (@_e_delger), a student in NYU's Science Health & Environmental Reporting Program, will be interning at _Inside Climate News_ as part of a new program focused on environmental justice reporting. She says: "The position is full-time for 10 weeks, beginning on June 7. The internship does come with a stipend, but it's significantly less than an hourly wage, so I'm really grateful to receive this NASW fellowship to make the summer a little easier. I'm excited not just to become a fellow but also to join NASW as a member."
Ip (@AlexIp718) will be spending the summer as a communications/science writing intern at Smart Sea Level Sensors, a multi-agency project in Georgia that aims to collect real-time data on coastal flooding for emergency planning and response. "I will be working with the Georgia Tech Global Change Program and Harambee House, a Black-led environmental justice non-profit in Savannah, Ga., to cover issues related to sea-level rise," he said. "My work will also be supported by a reporting grant from the Institute for Journalism & Natural Resources. I am grateful for the opportunity, and I am looking forward to getting engaged with more NASW initiatives in the future."
López Lloreda (@claulopezneuro) is a neuroscience PhD student at the University of Pennsylvania and a AAAS Mass Media Fellow who will be interning at STAT. "I am looking forward to covering tech and healthcare issues, particularly those affecting vulnerable and historically marginalized communities in the sciences. I hope to improve my investigative reporting skills and learn more about how a newsroom operates," López Lloreda said. "I am incredibly grateful to have been awarded the Diversity Fellowship from NASW, which will help me get the best out of my internship experience."
Thanks go to this year's judges: Jill Adams, Jane J. Lee, Jyoti Madhusoodanan, Rodrigo Pérez Ortega, Erin Ross, Jill Sakai, Matt Shipman, and Nidhi Subbaraman. The judges report having a record 30 of submissions, making the decision harder than ever.
"We had a wonderful pool of candidates to choose from," said Shipman, a research communications lead at NC State University. "I was very impressed by the caliber of the candidates."