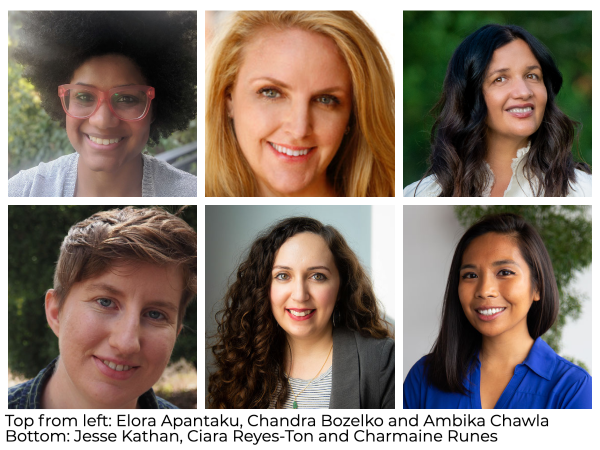 Congratulations to Chandra Bozelko, Ambika Chawla, Jesse Kathan, Ciara Reyes-Ton, and reporting duo Elora Apantaku and Charmaine Runes, on being selected as recipients of NASW's new Diversity Reporting Grants.

An initiative of NASW's Diversity Committee, the grant program was launched during the COVID-19 pandemic to support freelance science writers, many of whom are finding it difficult to find work during these challenging economic times.

Each project will receive $1,000 to support recipients' travel, time, and other costs as they report on how a science or health-related issue is affecting marginalized communities. Proposals related to COVID-19 were welcomed, but the grants were not limited to pandemic-related coverage.

"The COVID-19 pandemic upended our lives and has represented hardships for many of us. This can be especially true for freelance writers, who may be finding it particularly difficult to secure work. The Diversity Committee wanted to help our colleagues, as well as encourage them to tell the stories of underrepresented communities that are often overlooked," said Rodrigo Pérez Ortega, a freelance science journalist and co-chair of the Diversity Committee.

Applications were open to all freelance science writers pitching to publications or radio or broadcast outlets based in the U.S. Applicants were asked to demonstrate that there is interest from at least one publication in commissioning their piece.

The five proposals, to be undertaken by six writers, were selected by seven judges —Nidhi Subbaraman, Pakinam Amer, Amy Reyes, Philip Yam, Alexandra Witze, Jane Lee, and Pérez Ortega— from a competitive pool of applicants.
The story proposals touch on COVID-19 vaccines in correctional facilities, the intersection of faith and science in Black churches, access to green spaces for communities of color, how remote learning affects under-resourced students, and how power outages to prevent wildfires are affecting disabled people.
Here's more about the recipients:
Elora Apantaku is a thirty-something who values curiosity, inquiry, and novelty in all parts of her life. Diagnosed with type 1 diabetes at age 13, she has spent much of her adulthood determining its idiosyncrasies and helping others with the condition. She graduated from medical school in 2015 and now spends her time making medicine and science more accessible for all. Find her on Instagram @elorapantaku and https://southsideweekly.com/author/elora-apantaku/.
Chandra Bozelko is a nationally syndicated columnist, thought leader and political consultant. Her weekly column, The Outlaw, appears in 156 daily newspapers every week and her freelance opinion writing has appeared in The Wall Street Journal, The New York Times, USA Today, The Washington Post, and many other outlets. She has appeared on CNN as an expert commentator and is widely quoted in mainstream media on issues related to incarceration. She has also started the Trusted Opinion Project, a nonprofit organization dedicated to elevating opinion journalism as a means of improving public trust in the media. Follow her @ChandraBozelko
Ambika Chawla is a climate policy researcher and writer, and a freelance journalist. Her policy reports have been published by UN-Habitat, the World Wildlife Federation, the Panos Institute, and the One Earth Future Foundation. As an environmental journalist, her work has been published by Yes! Magazine, GreenBiz, and Ensia, among others. Follow her @AmbikaChawla3.

Jesse Kathan is a freelance science journalist covering climate change, public health, and ecology. Their work has appeared in The Mercury News, Eos, Inside Science and more. They recently completed the science communication master's program at the University of California, Santa Cruz. Previously, they conducted fisheries research in the Sacramento-San Joaquin delta. Find more of their work at jessekathan.com and follow them @jessekathan.

Ciara Reyes-Ton is a biologist, editor and freelance writer who is passionate about science communication and outreach to diverse audiences. She has a Ph.D. in cell and molecular biology from the University of Michigan, and is currently a lecturer at Belmont University. She has served as managing editor for God & Nature magazine, and is an editor for Peaceful Science blog. Most of her writing explores the intersection of science and faith. Read more at https://coffeebeingsandthings.org

Charmaine Runes believes that data belong to the people. She is currently pursuing a Master's in computational analysis and public policy at the University of Chicago. She also works as a fellow for the City of Chicago, assisting the city's response to the COVID-19 pandemic and transforming digital services through open source code and human-centered design. Connect with her at www.charmaine-runes.com and follow her @maerunes.
Photo captions and credits:
Ciara Reyes-Ton. Credit: Allie Granzo
Ambika Chawla. Credit: Liv Berger