By Anuradha Varanasi
Pitching a story to an editor effectively is one of the most daunting tasks every journalist has to carry out. At the Pitch Slam session for ScienceWriters 2018, the anxiety among journalists was almost palpable in the vast Lisner auditorium of the George Washington University. The science writers were from varying age groups and experience levels. However, all of them had a common goal, to sell their stories to the publication of their choice.
A panel of six editors from Quanta magazine, Nature, National Geographic, Science News, Chemical & Engineering News, and NOVA were seated on stage, ready to listen to the pitches. "We are always looking for science stories that basically tell a story. The questions we have include, are there characters and scenes that you can set and what does it highlight to a very nuanced specialist audience that is curious about the world," said Victoria Jaggard from National Geographic.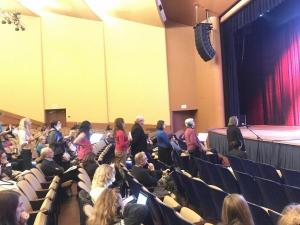 Hopefuls hawk their ideas
While the editors introduced themselves, it was obvious that feature stories on scientific discoveries and trends, profiles of scientists and their off-beat research work were the common topics they were interested in. On the other hand, the beats the editors are interested in range from mathematics, archeology, astronomy, and paleontology to climate change and science budget stories.
For instance, Quanta magazine mainly covers basic science and mathematics. Michael Moyer, deputy editor of the magazine, said, "We exist in order to shine a light on fundamental research in the fields of mathematics, physics, computer science and biology. Our bread and butter is mainly 2,000-word news features. They need to focus on a recent advance in a specific field where our readers can learn something new about the way our world works."
On the other hand, Nature's editor Jane Lee said while they do not cover stories on applied medicine, the magazine is looking for story pitches on science budget and archeology that has the ability to shift readers' thinking on a particular topic. Another point emphasized by editors was that they were looking for stories on new research that has not been published in popular journals like Science and Cell, for example. Instead, the editors encouraged science writers to find interesting and new research published in out-of-the-way journals.
Within a span of an hour and a half, the six editors patiently listened to the story pitches of 19 science writers. The rule the writer had to follow was to deliver their story pitch within one minute; however, most of them exceeded that time limit. The journalists pitched stories on topics ranging from the Amazon forests, lady beetles, taxidermy, and scientific research on the spices industry to conditions like Kleine Levin Syndrome and endometriosis.
The editors' comments and feedback not only helped these journalists in further sharpening their stories, but also provided guidance for the audience, who were still in the process of narrowing down that one big story idea.